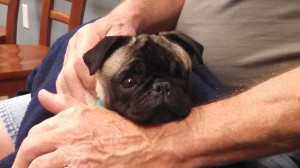 Name: Shayla
Age: 2 years
Previous Life: Breeder Auction
Sex: Female
Weight: 12-13 lbs.
Altered: Yes
Housebroken: Work in progress
Good with dogs/cats/kids: Unknown/Unknown/Yes (but would prefer a forever home with no kids)
Likes: Unknown
Dislikes: Unknown
Crate trained: Unknown
Shayla is special because she is blind at only 2 years old. Her right eye is non visual and her left eye is absent. She will require drops to keep them as moist as possible. Here's what her foster home has to say about sweet Shayla:
The sweet girl is a work in progress. We are working on trust and getting used to being around humans. We try to be very vocal with her and lots of petting. She likes to be snuggled or laying in her quiet corner. House training is in progress. Leash training is in progress. Her vision does not seem to impair her as she gets around really well. She now goes in and out the door. She doesn't mind my kiddos but I am sure would just love a quiet home. So overall she is just getting used to the world outside of a cage. Grass was a whole new world for this girl!