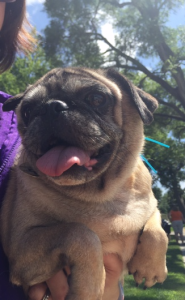 Name:  Shelley
Age:  7
Previous Life:  Puppy Mill
Sex:  F
Weight:  21.5 lbs
Altered:  Yes
Housebroken:  I'm working on it!
Good with dogs/cats/kids:  Yes/Yes/Yes
Likes:  Hanging with her people
Dislikes:  Some separation anxiety
Crate trained:  Yes, but prefers to not be in a crate.
Meet Shelley: A lovely, loving and loveable fawn pug. She is a mature lady, but she has lots of energy for playing or just hanging out with you! There is nothing she does not love: Men, women, children, other dogs, cats. We are working on housebreaking, but she is so eager to please her peeps it will come in time. She is super-affectionate, but perfectly willing to lie quietly at your feet until you are ready to give her some love. She gets a little anxious if separated from her people — no destructive behavior, but she does cry. In other words, she's perfect, and ready to go home and be your one and only or hang with the pack.
Interested in adopting Shelley? Please see our website and fill out an application at: www.pugpartners.com/adoption-application Shelley's minimum adoption donation is $275.