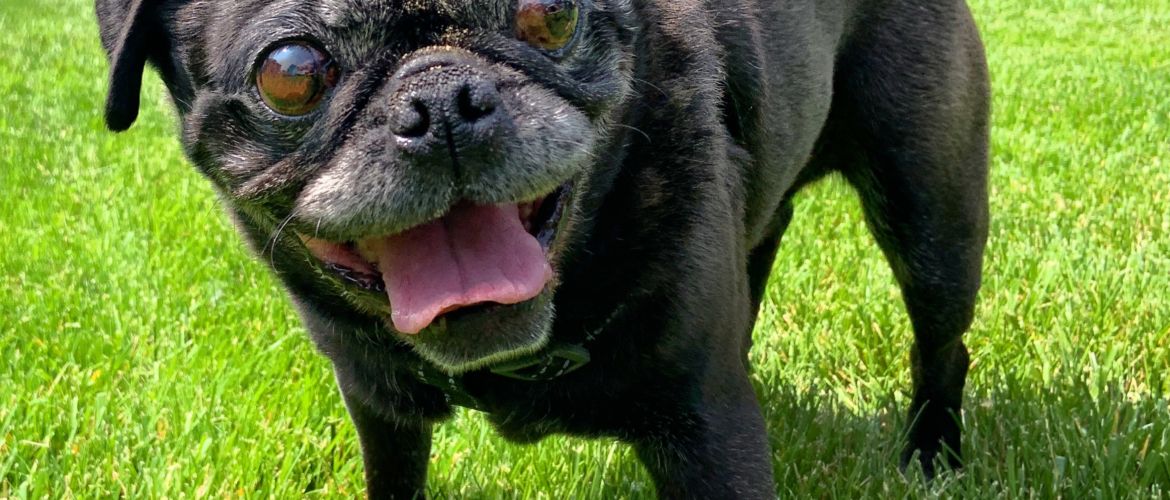 Sketcher – Adopted
Name: Sketcher
Age: 12 yrs
Previous Life: Owner Surrender
Sex: Male
Weight: 26 lbs
Altered: Yes
Housebroken: Yes, I had a few accidents in the beginning but doing great now.
Good with dogs/cats/kids: Yes/Yes/Yes
Likes: Likes to play with small soft stuffed toys. LOVES treats, food or anything remotely edible.
Dislikes: None
Crate trained: Yes, very well.
Fenced yard required: Yes
I'm Sketcher, a handsome 12 year-old boy! If you're looking for a new best friend, I'm your man! I'm quite the velcro pug, I love to follow my people everywhere they go and if they are sitting, I like to be right next to them. I would really love to be a lap dog, but at 26 pounds, I'm a bit too big for most laps! Usually I just end up cuddling close on the sofa instead.
You might be surprised by my age when you meet me. I'm very active and mobile for a senior. I can go up and down stairs, and jump up onto furniture. My vision isn't perfect, so I sometimes struggle with jumping down off the furniture I've climbed onto. Even though I have some vision loss, I can still get around well and only occasionally bump into things.
I enjoy going for short walks around the block. I'm very good at walking on a leash and don't pull at all. I'm a bit set in my ways, and I won't "do my business" while walking on a leash. I prefer to have a fenced-in yard where I can safely roam about and find the perfect spot to potty. I'm also kennel trained and house-trained. However, I do mark when I'm anxious, especially in new environments. My foster mom said she'll send me to my forever home with a belly band to wear until I get settled in and remember my manners.
I'm such a friendly pug! I'm very polite and I get along well with cats, kids, and other dogs. I know there must be a loving home out there just right for me, could it be with you?
Can't adopt, but want to make a big difference in the life of this pug? Become a sponsor today!