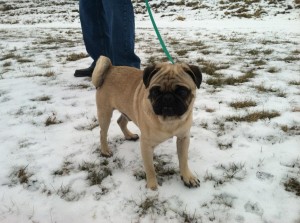 Name: Sonny
Age: 2
Previous Life: Owner Surrender
Sex: Male
Weight: 19 lbs
Altered: Jan 22, 2014
Housebroken: Yes but is marking territory w/other male in house
Good with dogs/cats/kids: Yes/Unknown/Unknown
Likes: toys and adults; looking at himself in a window or mirror; chew toys and chasing things
Dislikes: Unknown at this time
We have had a few difficulties with Sonny but they are not his fault. He is still not neutered via Omaha or Lincoln. It will be in 2 weeks before he can be neutered to prove he has no kennel cough. Sometime I don't get over it that fast! If he does cough it is when he gets excited when playing and breathing in too much air or coming in from really cold weather; that may be at most him coughs 1-3 times a day if that.
Sonny is doing well and eating Blue Buffalo dog food. He is house broke to say go "time to go outside" or "… potty" via door opened for him or doggy door. He has a bad habit of marking so I have improvised my own pepe/marking strap for him.
He barks at himself in a mirror or self reflection of a window and play hind -n-seek from it. he does not realize it is himself. He likes chew toys and chasing things. Gets along with other dogs, but my male dog is not so fond of him. He is a dog that wants to be the first in line of all the pets, the dominant/ excited. I have no cats and no small children have been over lately see how he would react, but believe he will do fine.
He is a very good rider in the car. I use the seat beat harness and he sits and looks out the window mostly. It's that think with the windows.
Sonny is Adopted!