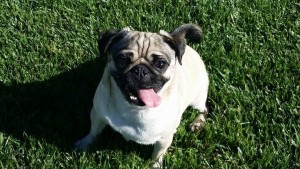 Name:  Sugar
Age:  5
Previous Life:  Puppy mill
Sex:  F
Weight:  20 lbs
Altered:  Yes
Housebroken:  I'm working on it!
Good with dogs/cats/kids:  Yes/Yes/Yes (13 years of age and older)
Likes:  Being close to my foster mom & sleeping in a bed!!
Dislikes:  Loud noise, sudden movements, men make me nervous
Crate trained:  Yes (but will cry when initially put in her crate)
My name is Sugar and I'm five years young. I'm a puppy mill rescue and I'm learning so much now that I'm in a home with people who think I'm special and want to be loving on me . This is really strange to me and I'm trying very hard to understand that I don't have to be afraid of every movement and loud noise. My foster mom says my confidence; whatever that is, will continue to grow, and as it does I won't be such a skittish girl. I'm living in a home with three foster pug sisters and 2 foster cat sisters and two foster real life boys. I get along with everyone. Sometimes they even have play dates with more dogs here in their yard and I'm ok with them too. I watch the young pugs play and I run over close to see what they are doing. I've never played before so I'm not sure what to do yet, so for now I just watch. It looks like so much fun.
I have some things my foster mom knows I like already. I like to be outside exploring if my foster mom stays outside with me. If I see her I'm ok. If I don't I'm crying to get back in. She says most likely I've always been outside so I'm just making sure I'm not forgotten. I like softer food to eat so she moistens my food for me. I eat slower than my foster sisters so my foster mom sits by me while I eat so they don't try and finish my food for me. My foster mom says I'm the first foster pug she has had who doesn't go crazy over food and treats. But she has discovered I do like a good chew toy or antler bone. The most wonderful thing I have discovered though is sleeping in a bed. This I really like A LOT. I snuggle in real close and like to lay my head right near my foster mom's head. She says I have a very nice and quiet snore that puts her to sleep.
I do have some things I don't like. I don't like leashes. I love just running around in the yard exploring, but not being confined to a leash so that might take a little more getting used to. I don't like my kennel. I'm sure you can understand after five years in a kennel I'm over it. But I do go in my kennel when everyone leaves the house and quiet down rather quickly. I have to get daily drops in my eyes as well which I'm not a fan of, but it's quick so it's not that big a deal I guess.
My foster mom knows what is best for me right now and she says she thinks I would do better with older children that she calls teenagers. I would also do well in a home that someone is home a lot so that I'm able to learn more social skills and work on that confidence thing. She knows I'm going to want a home that will let me snuggle in bed and snuggle on the couch while watching TV. My foster mom is looking for someone who understands Velcro pugs, again a term I don't know what it means, but she says it describes me.
If you think you would be interested in meeting me or if you have any questions about me or one of the other pugs available please complete an application at:
http://www.pugpartners.com/our-pugs/adoption-procedures
Interested in adopting Sugar? Please see our website and fill out an application at: www.pugpartners.com/adoption-application Sugar's minimum adoption donation is $325.