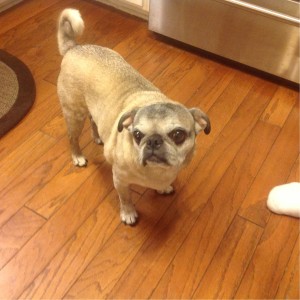 Name: Taz
Age: 10
Previous Life: Owner surrender
Sex: M
Weight: 19 lbs
Altered: Yes
Housebroken: Yes
Good with dogs/cats/kids: Yes/Yes/Unknown
Likes: Cuddling and of course, EATING
Dislikes: None
Crate trained: Yes
Taz is 10 years old but you'd never guess it watching him zoom around. He's pretty active for his age and will play with the younger dogs when he's in the mood. Like all pugs he still enjoys cuddles and naps and will happily sit with you though he can be demanding when he wants attention and scratches. He enjoys being with his people at all times and sleeping in bed. He doesn't love his kennel but he will go in without much fuss when we leave the house. Taz loves his treats and enjoys all kinds of edible chews. He adapted to a multi dog and cat household immediately. He does have some fatty lumps but they don't bother him or require any special care at this time.
Interested in adopting Taz? Please see our website and fill out an application at: www.pugpartners.com/adoption-application Taz's minimum adoption donation is $250.