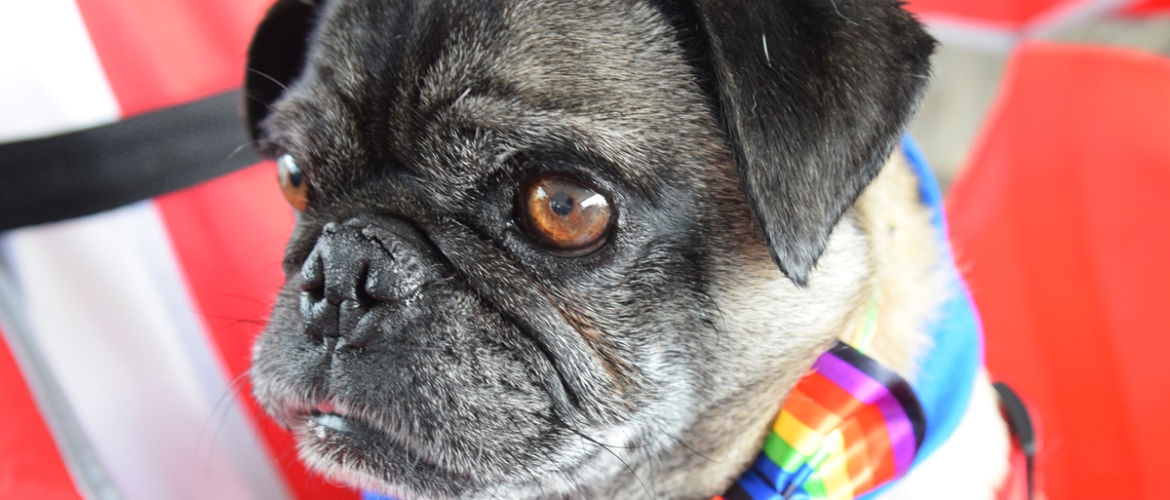 Teddy
Name: Teddy
Age: 9 years old
Previous Life: Owner Surrender
Sex: Male
Weight: 18.6 lbs
Altered: Yes
Housebroken: Working on it
Good with dogs/cats/kids: Yes/Yes/Yes
Likes: Treats, car rides, going new places, snuggling, going outside, following his foster Mom around
Dislikes: Nail trims, fireworks and loud noises may make me bark
Crate trained: Yes
Fenced yard required: No
Hello! My name is Teddy. I am around 8 years old. I am a very happy pug! There isn't anything that really upsets me, I just love life! I get along great with my furry foster sisters. I just do my own thing if they want space, but love to go along with the flow of the house. One of my favorite things to do is to follow around my foster mom and to snuggle up on the couch or in bed. If she is up moving around so am I. Even though it has been hot out, I do enjoy short walks, because wherever my foster mom goes, I go too with happiness written all over my pug face! I also LOVE to go on car rides! That is by far my favorite thing to do. Wherever you go and you can take me, I will gladly go!
I came to Pug Partners because I had some incontinence issues overnight. I occasionally have an accident overnight while I am sleeping, but if you make sure I go before bed time, I can go without an accident. I don't do it intentionally; I just have some nerve issues with my back end. If you get me on a schedule and are patient with me, I do great. Right now I go to Five Elements and I am working on getting the strength back in my legs. The doctor thinks with rehab; I will be able to regain strength back in my legs. This will help with my accidents. I will have at home exercises to do so I can get that strength.
If you work with me, I will be a great addition to your family! I get along with other dogs and because I am so easy going, I know I'd get along great with cats as well. I do get along with kids, as long as they aren't too rough with me because of my back legs. I love my life and I love people, so I will do great with the right family! I am looking for the family that is willing to work with me and help me with rehab. I will be the most loyal and happy pug! Will you be my forever home?
Interested in adopting me?  My minimum adoption donation is $275.