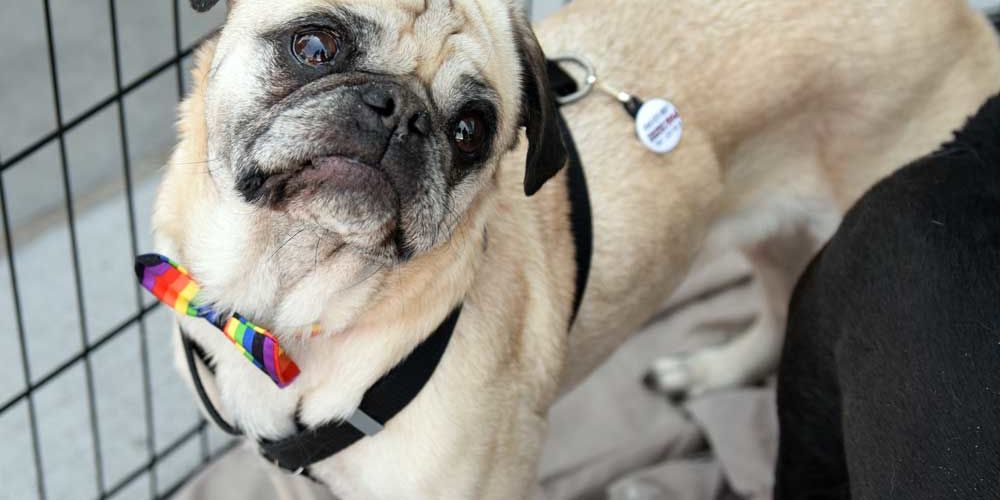 Tobi
Name: Tobi
Age: 4
Previous Life: Owner surrender
Sex: M
Weight: 20.2 lbs.
Altered: Yes
Housebroken: Yes (may attempt to mark in new surroundings, but subside once adjusted)
Good with dogs/cats/kids: Yes/Unknown/Yes
Likes: Snuggling, sleeping, playing
Dislikes: Tobi is timid & fearful with other dogs at first as it appears he is afraid of being attacked (as he was in his prior home). Otherwise he is not fearful or timid with people.
Crate trained: Yes
Hello! My name is Tobi and I am 4 years old. I am a very sweet boy, looking for a home that I can call my own. I am very shy at first, but once I get comfortable, you'll find that I am a normal goofy sweet pug. It takes me a little while to warm up but when I do, you will find that I like to play with my toys, explore the yard, chase my tail, follow someone around, and snuggle.
At one point I was extremely overweight, but now I am healthy pug. I have a lot of energy, so I would like someone who would play with me and like to take me on walks so I can stay fit. I must keep my handsome pug figure! I have been known to be an escape artist, so I require a safe and secure fenced in yard. Plus, I love to roam the yard and check out what is going on outside. I am very curious!
I do well with other dogs. I am a little timid when it comes to playing with other dogs. I do warm up as time goes on, but I am very cautious of what I do because I am worried I might do the wrong thing. I am a lover and I want to play with other dogs, I just take a little time to get comfortable doing so. I would do well in a home that has another dog that likes to play. I am a submissive pug. I am OK with a dominant dog but I do not want to play with another dog that bites when they play. I'd prefer a dog that is older and not a puppy. I don't want teeth touching me or I get really scared.
I am a super sweet boy with nothing but love to give. I'm shy at first, but will warm up soon after I arrive at your home. Will you be my furever home? I have a lot of love to share with you. You'll fall in love with me the minute you meet me!
Interested in adopting? Tobi's minimum adoption donation is $350.
Can't adopt, but want to make a big difference in the life of this pug? Become a sponsor today!