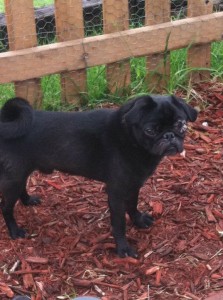 Name: Vinny
Age: 3
Previous Life: Owner surrender
Sex: Male
Weight:
Altered: Yes
Housebroken: Yes
Good with dogs/cats/kids: Yes/Unknown/Yes
Likes: Unknown
Dislikes: Unknown
Vinny is Pending Adoption!
Vinny is a 3 year old pug, he will be neutered, have his left eye removed (infected and protruding and not able to be salvaged), dental and his vaccines. Vinny has had a hard start to his life but we can turn it around with a wonderful caring home for Vinny from this day forward. More info to come after Vinny gets much needed care at the vet
-Update from foster home. Hi! My name is Vinny. I'm 3 years old and as sweet as can be. I was having trouble with one of my eyes and it had to be removed. But that's ok. I couldn't see out of it anyway. My foster mom says I am no trouble at all. She thinks I'm the best. I'm potty trained and even cry at the door when I want to go out. I like to lounge around with my foster brother, Otis, and recently started playing with his toys. I'm a very relaxed dog and I melt in your arms when you hold me. I get to sleep on the couch with Otis at night and sometimes with my foster mom. I do like to bark, which I'm working on. Mainly I bark at people and cars walking by the yard. I'm looking for my forever home. I would be great on my own or with another calm dog. I've been around some cats and I'm still a little unsure about them. I get along with kids just fine. I love when our neighbor boy, Sam, comes over to run in the yard. Whoever adopts me will be showered with love every day. I promise!
Vinny is Adopted!
Happily ever after story.
Things are going fantastic! Little Baby quickly bonded with us and his new brother Donnie! He loves to play in the backyard with Donnie and go for walks a couple times a day.He is a good eater and has put on some healthy weight ( he was very skinny when we got him). He has not had any potty accidents and loves getting treats for his good behavior. He gets so excited when we give out treats and does a funny little dance. Donnie and Little Baby have their own beds that they chew their bones in; otherwise they are up on the couch with mommy and daddy. When mommy and daddy go to work, Donnie and Little Baby sleep on the couch like little angels! Jillian took Little Baby to the Vet for a checkup the other day and he cried the whole way there, thinking he wasn't going to be staying with us any longer. He was ecstatic when he got home and we reassured him that he was now part of our family and he would be with us forever. After a long day, Donnie and Little Baby climb in our bed and fall fast asleep. We are so happy with our new family member and would like to thank everyone at Pug Partners for the great work they are doing!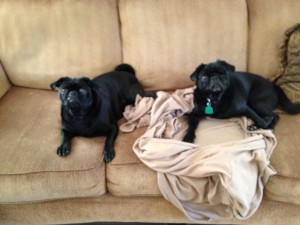 Our dogs love to sleep on Kuranda Dog beds, but we don't have enough for everyone.
If you would like to donate a bed at a special wholesale price for a another dog to sleep in comfort, please donate a Kuranda dog bed.