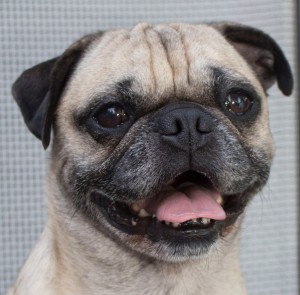 s of Nebraska!
Name:  Winston
Age:  5
Previous Life:  Owner Surrender/Shelter
Sex:  M
Weight:  12 lbs
Altered:  Yes
Housebroken:  I'm working on it!
Good with dogs/cats/kids:  Yes/Unknown/Unknown
Likes:  Being outside & hanging out on the couch
Dislikes:  (Per his foster home) The shelter thought he was dog aggressive from the behaviors they witnessed, but I think that was due to being caged. We have 3 pugs and have 2 other fosters here and he is doing well with all of them. The only one he has issues with is Manny, who is a very large pug and he has been a little pushy with Winston.
Crate trained:  Yes – He is not fond of being in the kennel. He will eventually settle down. We think this may be because he was left alone in the crate for many hours.
Winston is a 5-year-old neutered male pug who was surrendered to a shelter. He is on the small side, about 15 pounds. We picked him up on 8/6/2015, so we are still getting to know each other. He is doing well with our pugs and the other foster pugs in our home. We are still evaluating his housetraining and will start to teach him to use the dog doors. He is a great little pug who is learning how pampered all pugs should be. More information to come …
Interested in adopting Winston? Please see our website and fill out an application at: www.pugpartners.com/adoption-application Winston's minimum adoption donation is $325.