Gus – Foster or Foster to Adopt Needed
Name: Gus
Age: 10 years old
Previous Life: Owner Surrender
Sex: M
Altered: Yes
Housebroken: Yes
Good with dogs/cats/kids: No/No/No – Dog savvy kids over 12 only
Likes: People, stuffed toys and bones
Dislikes: Other dogs, especially another dominate dog
Crate trained: Yes
Requires Fenced Yard: Yes
Other dogs: Gus must be either the only dog or have a very submissive dog that he can slowly warm up to
Pug Partners will include instruction by a licensed trainer.
Preferred in the Omaha area.
Hi there! My name is Gus and I am a spunky 10 years young. I love food, pillows, stuffed animals, bones and a fair amount is mischief. If I could give the newspapers a quote about life it would be "the trouble with trouble is that it started out as fun". I was surrendered from my family because of my behaviors with other dogs and some food aggression.
I need a home where I am the only pet or another submissive pet that I can warm up to. I would also do best in a home with only older kids who are familiar with dogs. My new family will need some patience to help redirect my energy. I am super smart and love to learn, training will need to be a big part of my life. I need some work, but I'm worth it!
Update 10/18/18: Gus has an important update to his bio and is excited to share it with you. Maybe you're EXACTLY what Gus needs in his life?
Hey there, I'm Gus! They say I'm 10 but I don't know numbers, I just know I still love to run, play, and jump around! I can handle full flights of stairs and get along really well with people! I like to stay by your side, so they say I'm a velcro dog. I'm very well potty trained and do just fine in the car or a kennel! I don't do quite as well with dominant dogs but get along great with non-dominant dogs. I'm NOT a fan of cats at all! They're only good for barking at and chasing! I always come when I'm called and know a few basic things like sit, lay, and food time! Otherwise I'm a happy, healthy dog and looking for my forever lap to sit in!
Please email
terra@pugpartners.com
for questions or if you are interested in fostering/fostering to adopt Gus.
Can't adopt, but want to make a big difference in the life of this pug? Become a sponsor today!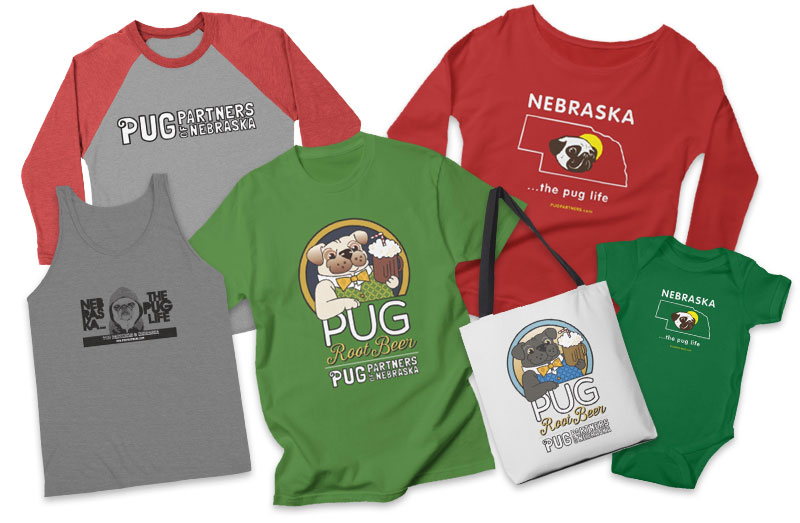 Go Shopping & Help Save Pugs!
Pug Partners now has an online apparel and accessories store. The best part is, every purchase supports our pug rescue efforts!