Upcoming Events
Events List Navigation
September 2017
2017 Margre Durham Walk for the Animals Join the Nebraska Humane Society Sunday, September 24th from 11 a.m. to 2 p.m. at the Walk For The Animals - Omaha's largest dog-friendly event! You and your dog can spend the day enjoying the following activites. Dog-friendly photo booth Beer garden Food vendors Kids activities And so much more....
Find out more »
October 2017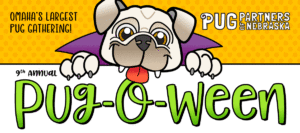 Join us for the 9th annual Pug-O-Ween! It's Omaha's largest pug event!
Find out more »
November 2017

Come and meet our adorable pugs available for adoption, speak with our volunteers, and check out our Pug Partners merchandise!
Find out more »
+ Export Events