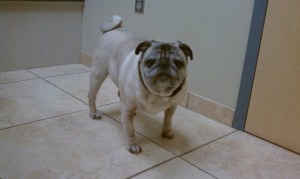 Name: Jake
Age: 10 Years
Previous Life: Surrendered by his owner
Sex: Male
Weight:
Altered: Yes
Housebroken: Yes
Good with dogs/cats/kids: Unknown
Likes: Ear cleaning
Dislikes: Unknown
Meet Jake! Jake is the newest edition to the Pug Partners family. He is an older guy, around 10, and sweet as can be. He has very serious ear infections and some mild skin irritation, most likely due to allergies. The foster home is working with Jake and we are deciding what is the most appropriate home. Jake has a strong personality, a bit of a brat but very much a cuddler we are told. Once ears and allergies are under control pugs often change their tune. Updates to come!
Jake died on August 29th 2011 from complications during surgery.