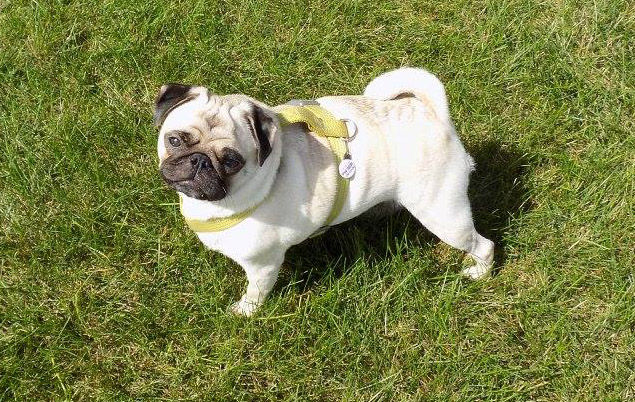 Age:  2
Previous Life:  Owner Surrender
Sex:  M
Weight:  18 lbs
Altered:  Yes
Housebroken:  Yes
Good with dogs/cats/kids:  Yes/Yes/Yes
Likes:  Loves to play with toys and sleep on your lap
Dislikes:  None
Crate trained:  Yes
Bruno – Well, he is a young pup who is full of life and just wants to please and be loved. He has a seizure disorder (see below), but to see him, you really would not know. He wants and loves to play, outside, inside, with his humans. He also loves the cats, even if they do walk away.
He wears a boy band as his medicine makes him want to urinate more often and also leaves him hungry. He is currently switching to an excellent food that will help with that hunger and still give him all the nutrients he needs. Since being on these medicines he seems to be so much better, he is going to have a great life and give you his all!!!
LONG TERM NEEDS:
April 2016 update: After being diagnosed with Pug Dog Encephalitis in 2015, his diagnosis has been changed to a seizure disorder with unknown origin after a follow up with the neurologist. We are in the process of slowly weaning him off some of his meds but there is chance that he will still need some medication daily.
Long term needs really is a matter of keeping an eye on him and Veterinarian care due to his illness. In turn this does mean he shall not necessarily have a full life span, but he takes each day in his stride and has fun with it. He is pampered/boy band as urination just comes on with these medications.  Potential adopter will need to be aware of his medical condition and be able to provide him the necessary vet care for the entire span of his life.  He will also need high quality food to control his medical condition.
Interested in adopting? Bruno's minimum adoption donation is $400.