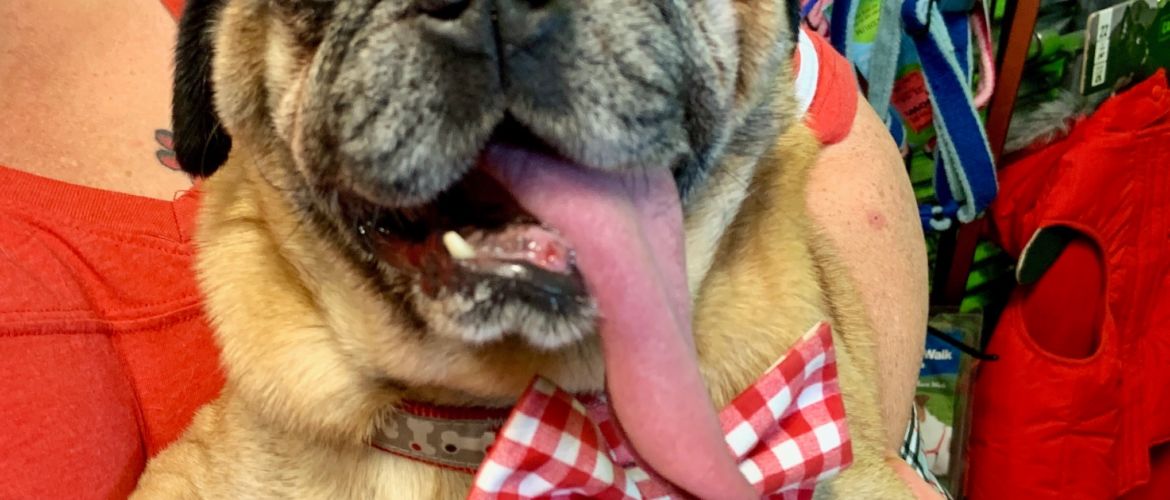 Zippy – Rainbow Bridge
Name: Zippy
Age: 8.5 yrs
Sex: Male
Weight: 20.5 lbs
Altered: Yes
Housebroken: Working on it!
Good with dogs/cats/kids: Yes, another dog is preferred/Unknown/Unknown
Likes: Blankets are his favorite chew toys right now and cuddling.
Crate trained: Yes
Fenced yard required: Preferred
Hi there! I'm Zippy the pug! My foster mom says whoever adopts me is going to win the lottery. I'm a very happy, easy going pug. I wag my tail for pretty much everything. I wear a belly band when I am inside as I am learning the potty training thing. I have never gone #2 in the house. I just like to mark but I got neutered a week or so ago and have been doing much better. Foster mom thinks that I can be fully house trained as I am sensitive to wanting to do the right thing and not make my people unhappy.
I only have 4 teeth left but that doesn't slow me down for eating my kibble. I still get hard kibble and eat that up. I don't like it in bowls though, only on the floor. With only have the 4 teeth left, just make sure it's a manageable bite for me as far as treats go. I am easy going about most things except when it comes to pills. I will not take those no matter how much you cover them with stuff.
I'm a champion cuddle partner. I will even give you a paw if you stop petting me. I mostly like to nap and cuddle. Occasionally i will bite on the blankets and try to drag them around. One day I even took all of foster dad's clothes out of the bathroom. I am really liking hanging out with my people and do want to be around them a lot. I am good about going in my kennel and will let you know to let me out with a sad walrus howl. I've learned how to go up and down stairs. I do enjoy being outside but I really like being with my people and other pugs. If you can be patient with me and teach me the ways, I will be a very happy pug by your side.
Zippy's minimum adoption donation is $275. Interested in adopting? Email our adoption coordinator kristi@pugpartners.com and let her know why you think your home is a perfect match for Zippy!
Can't adopt, but want to make a big difference in the life of this pug? Become a sponsor today!