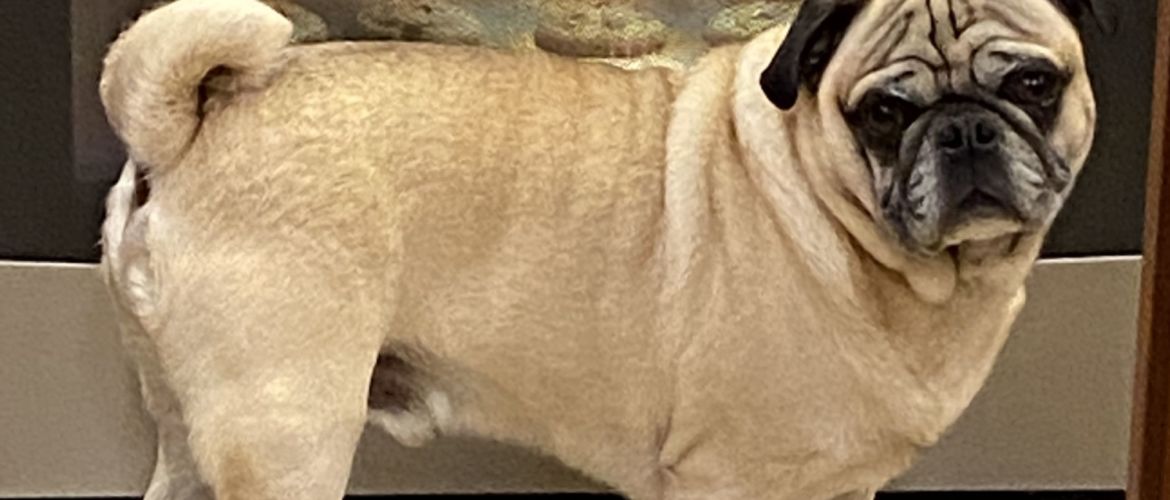 Doug – Adopted
PLEASE NOTE: All of our adoptable dogs are NOT adopted on a first come, first serve basis. We match the right pug with the right family. Please read the entire bio and details below before applying.
Name: Doug
Age: 6 yrs
Sex: Male
Previous Life: Owner Surrender
Weight: 23 lbs
Altered: Yes
Housebroken: Yes! Had a couple accidents right after he came to the foster home but none since.
Good with dogs/cats/kids: Yes/ Yes/Yes
Likes: To play with toys and other dogs. Very outgoing. Loves attention
Dislikes: None
Crate trained: Yes
Fenced yard required: Yes a fence is required. Doug is very active and needs a yard to run in
Special Needs/Notes: Ruby and Doug came in together. Doug can be a bit of a bully to her sometimes and we are currently still determining if both Doug and Ruby are better together or separate.
Hi my name is Doug! I am a very active 6 year old pug. I love all people and all adventures. I love being outside exploring the yard and running around with the other dogs. I play with toys and other dogs. I came to my foster home with my friend, Ruby. We wrestle together and pull each others tails (well let's be honest, mostly I pull her tail). I also enjoy chasing around with the frenchie that lives at my foster home. I am very tolerant of the cat that lives here and pretty much just ignore her. My foster Mom says I have fairly good manners but I could use some more work with not putting my feet on people when I want to say "hi' or be petted. I am a happy-go-lucky boy and am usually finding something to do to amuse myself. Sometimes that might be chasing my own tail or playing tug of war with a toy and another dog. I was fairly fat when I came to my foster home so I have been on a diet, lost some weight and am feeling much better. My weight will need to be monitored (foster Mom made me write that!)
If you are looking for an active pug with lots of energy and always willing to go along for whatever adventure comes my way, then I am your guy! I would love to meet you and become part of your family.
Interested in adopting Doug? Please visit our website and review our adoption procedures at: https://www.pugpartners.com/adoption-procedures Doug's minimum adoption donation is $325. Due to the high frequency of applicants NOT ALL pre-screening emails will be responded to. PPN does not allow pugs to be shipped as cargo. For approved out of state adoptions requiring airfare the pug must fit in an airline approved sized carrier able to fit under the seat. Out of state adopters must arrange for transport and in some cases we may have volunteers able to help.
Interested in adopting? Email our adoption coordinator kristi@pugpartners.com and let her know why you think your home is a perfect match!
Doug's minimum adoption donation is $325.