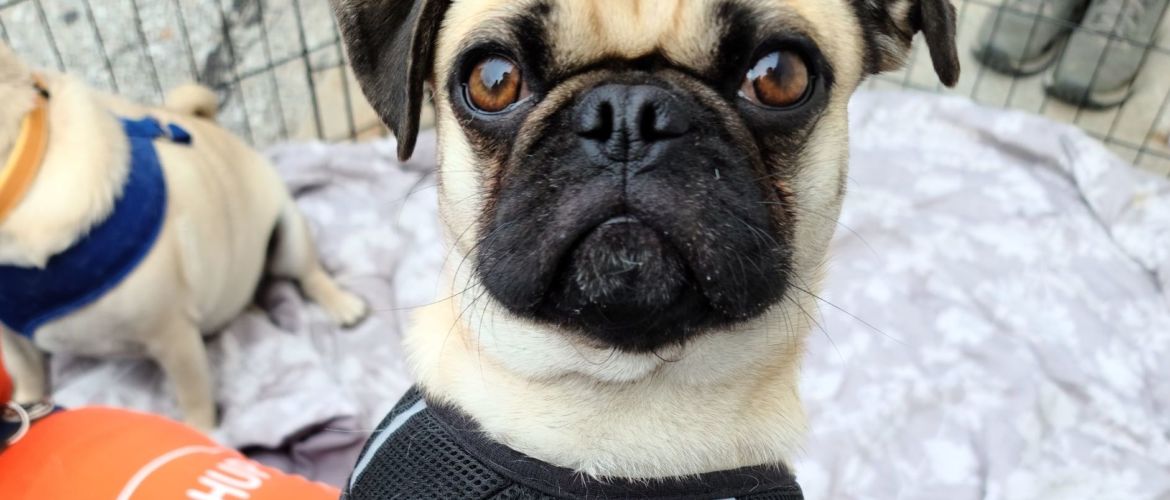 Rollie
PLEASE NOTE: All of our adoptable dogs are NOT adopted on a first come, first serve basis. We match the right pug with the right family. Please read the entire bio and details below before applying.
Name: Rollie
Age: 2 yrs
Sex: Male
Previous Life: Owner Surrender
Weight: 23 lbs
Altered: Yes
Housebroken: Could have an accident if you don't notice his signal to go outside
Good with dogs/cats/kids: Dogs, Yes! Another younger dog to play might help. He may push around older dogs and has a lot of energy. Treats/raw bones/food should be fed separately as to avoid any types of aggression or fights. Cats, not preferred and will chase. Kids, yes older preferred and not around food/treats/bones.
Likes: Loves walks, all toys especially balls and playing fetch. He is food motivated but has some food aggression with high value treats and raw bones. Can easily keep up on a light jog for 2-3 miles in mild weather
Dislikes: A little skittish around loud sounds and sudden movements. Startles easily on walks or in environments he's not familiar with. Will bark and/or try to back away. I think it's his lack of experience and should get better.
Crate trained: Does not prefer it at night
Fenced yard required: A fenced yard is required and 6′ preferred
Special Needs/Notes: He is timid at first, but opens up quickly. He is high energy, very athletic. Will require some exercise daily to calm him down. Loves to cuddle and doesn't understand personal space. His name should be Tigger; he bounces everywhere. Jumps on and over beds/furniture. He will need to be fed food/treats/bones ALONE and where he's comfortable.
Hi! My name is Rollie; my foster family calls me Rollie Pollie Ollie. I've been with my foster family for a few weeks now. I'm really enjoying the craziness of 2 kids, another pug and a cranky cat. These human kids are so much fun. They love to play fetch and cuddle with me. I deserve a gold medal for my cuddling skills. Sometimes I want to cuddle so hard that I body slam them to make sure they know how much love I have to give. I guess they think it's cute. I really like to cuddle the other pug, Grace, although I'm not sure she feels the same way. It would be nice to have a younger dog to play with, Grace rolls her eyes at my energy. Speaking of energy my foster parents take me on their morning jog most days. I have no problem keeping up for 2-3 miles and have great leash skills. When I went to live at my foster home they tried to have me sleep in my kennel; nope, bad idea. I don't mind my kennel when nobody is home but at night I want to partake in all the snuggles. Let's see; other interesting traits I have…… I like my foster mom a lot so I usually push my way into the shower to creepily stare at her, make sure she doesn't drown. Then I have spectacular post shower parties; zoomies. I'm a springboard of energy. I jump on and over furniture. For the most part I don't have accidents in the house. I give pretty good signs when I need to go out but will go inside if nobody notices. I don't mark inside which is pretty stellar for a young male. I'm defiantly food motivated and learn fast. I know my name and I learned to sit within 2 days of being at my foster home. Bonus, I take treats really nice.
I suppose I can't be flawless; a few of the things I'm working on: I'm nervous around new people and new situations. I will bark and have a low growl but I warm up quickly. I do chase cats but redirect quickly and getting better about this. Probably my biggest obstacle is mild food aggression with high value treats and bones. I can get defensive and like my space. Please talk to my adoption coordinator for more details. I can be a flight risk if outside and not contained. Most of the time I stay close to my foster parents but if I'm feeling spicy I will bolt.
I can't wait to meet my new family.
Interested in adopting Rollie? Please visit our website and review our adoption procedures at: https://www.pugpartners.com/adoption-procedures Rollie's minimum adoption donation is $400. Due to the high frequency of applicants NOT ALL pre-screening emails will be responded to. PPN does not allow pugs to be shipped as cargo. For approved out of state adoptions requiring airfare the pug must fit in an airline approved sized carrier able to fit under the seat. Out of state adopters must arrange for transport and in some cases we may have volunteers able to help.
Interested in adopting? Email our adoption coordinator
kristi@pugpartners.com
and let her know why you think your home is a perfect match!
Rollie's minimum adoption donation is $400.