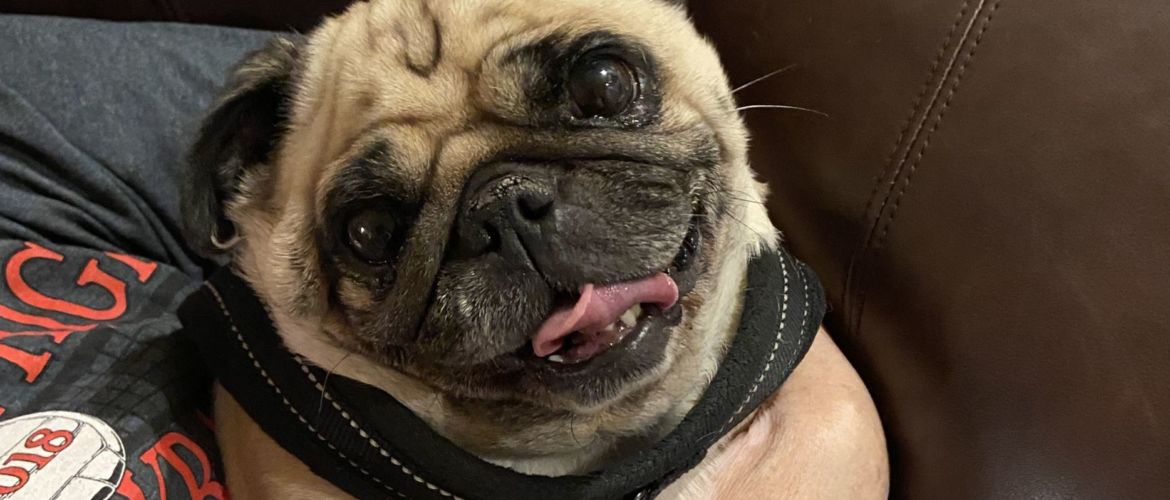 Ruby (bonded with Doug but may separate)
PLEASE NOTE: All of our adoptable dogs are NOT adopted on a first come, first serve basis. We match the right pug with the right family. Please read the entire bio and details below before applying.
Name: Ruby (bonded with Doug but may separate)
Age: 4 yrs
Sex: Female
Previous Life: Owner Surrender
Weight: Ruby was very obese when she arrived into our care. She has been on a strict diet, has lost some weight and is breathing much better and a lot more mobile.
Altered: Yes
Housebroken: Yes
Good with dogs/cats/kids: Yes/ Yes/Yes
Likes: Ruby loves people and is always so excited to get attention and likes to carry around stuff toys. She will play with soft toys sometimes but really prefers to carry them around.
Dislikes: None
Crate trained: Yes
Fenced yard required: Yes a fence is required
Special Needs/Notes: Ruby and Doug came in together. Doug can be a bit of a bully to her sometimes and we are currently still determining if both Doug and Ruby are better together or separate.
Hi my name is Ruby! I am a delightful little pug with a huge personality. When I came to my foster home I was very obese and had a hard time breathing. I have been on a strict diet, lost some weight and now I can breathe much better and am a lot more mobile. I love people and getting attention. I am a very active girl and enjoy being out in the yard exploring. I am and have not had accidents at my foster home. I love soft toys and sometimes I will play with them but most of the time I really just like to carry them around. My foster family calls them my babies. I am crate trained and go into my kennel on command and sometimes I like to go into my crate on my own to chill out. I came to foster care with my friend, Doug. We are both active and we like to wrestle, pull each other's tails and otherwise pick on each other like normal siblings. I love Doug to pieces but honestly occasionally I appreciate a break from him. My foster Mom says I am very well behaved. I come when I'm called, leave the cat alone, go into my kennel, and enjoy all people. I'm a lot of fun and would love to meet you and become a member of your family.
Interested in adopting Ruby? Please visit our website and review our adoption procedures at: https://www.pugpartners.com/adoption-procedures Ruby's minimum adoption donation is $350. Due to the high frequency of applicants NOT ALL pre-screening emails will be responded to. PPN does not allow pugs to be shipped as cargo. For approved out of state adoptions requiring airfare the pug must fit in an airline approved sized carrier able to fit under the seat. Out of state adopters must arrange for transport and in some cases we may have volunteers able to help.
Interested in adopting? Email our adoption coordinator kristi@pugpartners.com and let her know why you think your home is a perfect match!
Ruby's minimum adoption donation is $350.