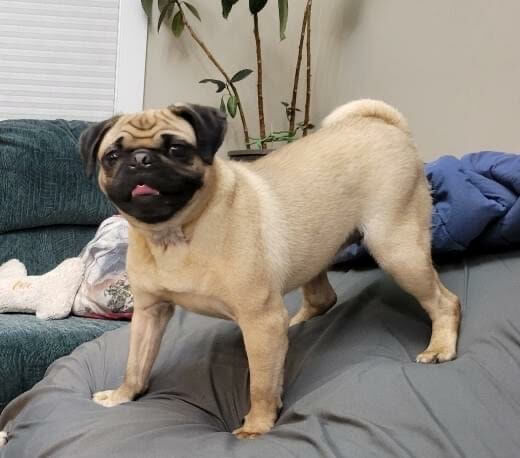 Mona
PLEASE NOTE: All of our adoptable dogs are NOT adopted on a first come, first serve basis. We match the right pug with the right family. Please read the entire bio and details below before emailing. Failure to read all may result in no response or denial. The requirements for each dog are NOT negotiable so please do not ask.
Name: Mona
Age: 2 yrs old
Sex: Female
Previous Life: Owner Surrender
Weight: 16 lbs
Altered: Yes
Housebroken: Mostly but needs consistency and reinforcement
Good with dogs/cats/kids: Yes, but sometimes she doesn't understand when another dog isn't in the mood to play.Mona likes to play and would do best with other dogs that like to play or won't be bothered by my playing/Unknown if she is good with cats/Unknown if she is good with kids
Likes: snuggling, toys and bones
Dislikes: Can be skiddish with sudden movements or loud noises
Basic Commands:
Crate trained: Yes
Fenced yard required: Yes, a fenced yard is preferred and an adopter with a fence will be selected first.
Special Needs/Notes: Some separation anxiety as well as itchy skin, which is improving.
Hi! My name is Mona, and I can't wait to meet you! I have so much love to give, and I am looking for the perfect person (or people) to shower with my affection!
I consider it my full-time job to keep track of my foster parents. I like to follow them from room to room so I can always have eyes on them. I'm a great helper pug that loves to stick my nose in whatever they're working on to see if I can be of assistance. I even like to look at my foster parents in the mirror! I miss my foster parents when I can't see them, and will cry a little if I can't be where they are.
I LOVE to play with my foster parents, other dogs, toys, and bones. Sometimes I try to chew non-toy things. My foster brother loves to play with me but my foster sister thinks I'm a little too energetic. Despite my energy, I'm always ready to snuggle in your lap or curl up in bed with you. I settle right down when I can be with my person.
Unlike my foster siblings (who will wither away if not fed on time), I'm not very interested in food. I love treats, but sometimes I walk away from meals if there is something else more interesting going on. Sometimes during breakfast or dinner I completely ignore my bowl and just try to give my person some kisses instead. When I do eat, I like to have company and make sure that my person stays with me the whole time.
I also LOVE outside and don't seem bothered by the cold or snow one bit! I'm good about going potty outside, but sometimes still have accidents inside.
I'm not very vocal unless I'm worried about my person or sometimes when I see something unfamiliar. I can do a great "sit" and do a good job of coming when called. I get around great and have no trouble going up or down the full flight of carpeted stairs in my house. I do have some itchy skin, which we're working on.
I'm looking for a family that has time to give (and receive!) lots of love and attention. Your affections will be returned in spades!
Due to the high frequency of applicants NOT ALL pre-screening emails will be responded to. PPN does not allow pugs to be shipped as cargo. For approved out of state adoptions requiring airfare the pug must fit in an airline approved sized carrier able to fit under the seat. Out of state adopters must arrange for transport and in some cases we may have volunteers able to help.
Interested in adopting? Email our adoption coordinator kristi@pugpartners.com and let her know why you think your home is a perfect match!
Mona's minimum adoption donation is $400.