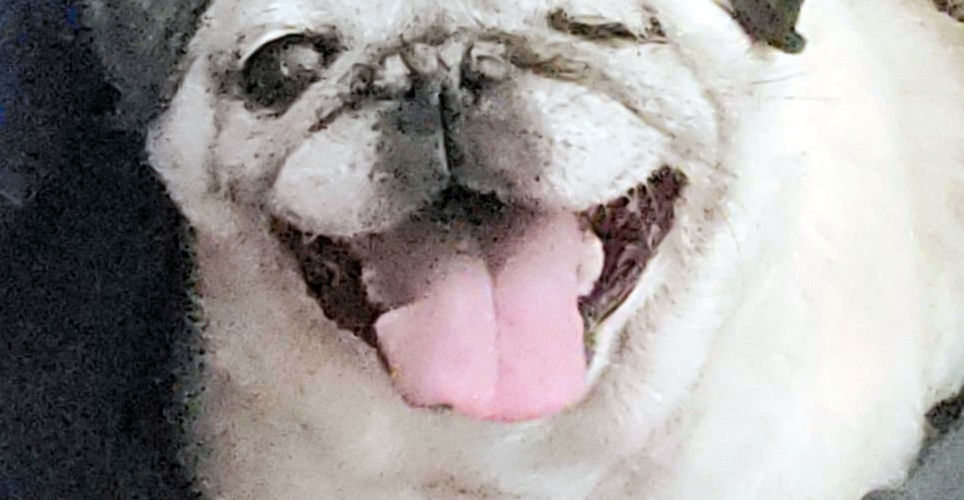 Remi
Name: Remi
Age: 13 yrs young
Sex: Female
Previous Life: Surrendered due to owner passing
Weight: 16 lbs
Altered: Yes
Housebroken: Yes
Good with dogs/cats/kids: Dogs: Yes/Unknown/Unknown
Likes: Cuddling on the couch, all the treats and napping
Dislikes: Being left alone for too long
Crate trained: Yes
Fenced yard required: No fence necessary
Special Needs: Sunken eye and some PK in other eye and does like to be underfoot.
Hello world! It is me, Remi the pug! I'm 13 years young and healthy. I once was a puppy mill puggie but I got rescued from that life to become a treasured companion. That sadly ended with the passing of my owner, but I got to stay with some new people who seem pretty okay. I'm ready to be treasured and adored as the regal pug that I am.
I really am a champion of snuggling and napping. I enjoy being with my people all the time. Wherever you go… I will follow. I came in a tad fluffy, so I've been putting in the time to lose a few lbs. Feeling good now to the point of even running a bit. One good eye is all I need, as I do have two, but one is just a tiny one that doesn't work. Gives me a special winky look my foster ma says.
I enjoy being around my foster pug siblings. I am motivated by them to run, eat and bark. Ma and Pa Foster say that I have a special sound to me. Bwoof Bwoof. If I don't see them, I can howl and cry and carry on. A window to look out would be nice so I can protect the place. I don't move that fast anymore, but I give the sweetest pug kisses to your hands and legs. The foster parents are always saying they are surprised by my spunkiness. I taught myself how to go upstairs. I liked to be dramatic about it and go up them and then cry about not having my people with me. I don't know about going downstairs yet. My ma and pa say that I'm actually pretty trainable for an old gal.
Overall, I just would like someone to be around most of the day to spend time with to cuddle and nap and perhaps some TV. If you are looking for a little bit of sunshine, I am your girl!
Remi's minimum adoption donation is $175.
Interested in adopting? Email our adoption coordinator kristi@pugpartners.com and let her know why you think your home is a perfect match for Remi!
Can't adopt, but want to make a big difference in the life of this pug? Become a sponsor today!