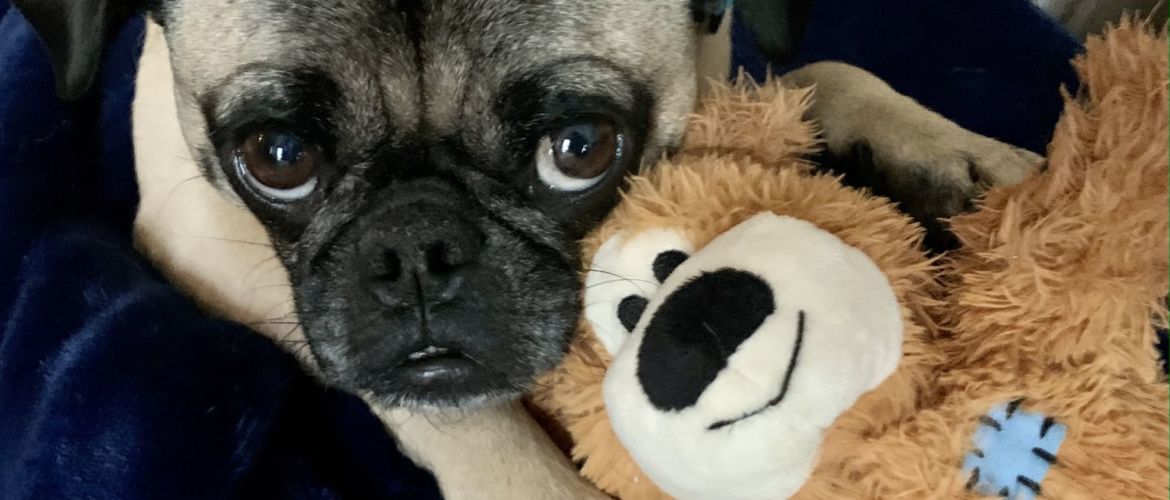 Adoption Pending – Frankie
Name: Frankie
Age: 4 yrs
Sex: Male
Previous Life: Owner Surrender
Weight: 20 lbs
Altered: Yes
Housebroken: Yes, work in progress and will let foster Mom's know when he has to go outside.
Good with dogs/cats/kids: Dogs: Yes/Unknown/ Unknown
Likes: Tug with soft toy, walks, bully sticks, watching out the window
Dislikes: Being kenneled and left alone
Crate trained: No, will cry/whine and scratch at kennel for quite a while.
Fenced yard required: Yes, it is preferred.
Special Needs: Separation anxiety, will have accidents, cries
I'm a 4 year-old boy pug who is looking for my forever home. Do you like hugs? I love to be hugged! I'm am super soft and cuddly, and my favorite thing is to be held like a baby and have my belly and chest rubbed. I'm such a great lap dog, I would love to be in your lap every moment you're sitting down. If you ignore me, I'll whine and yip until you pet me.
I was surrendered because I mark in the house, but I tolerate wearing a belly band. I usually try to mark when I am stressed (I have some separation anxiety), when there's something new in the house, or I smell where another dog has been.
I am good about letting my foster mom know when I need to go outside to potty. I make a whining noise and yip, then when I have your attention, I will dance my way to the door to let you know I need out.
I get along with the other dogs in my foster home. Two of them are young pugs, and I was a bit shy of them at first because they are so energetic, but eventually I started playing too. My favorite game to play with them is tug with a soft toy. When I think the other pugs are playing too rough with each other, I cry and try to break up their "fight."
I love to go for walks and I get excited at the sound of a leash jingling. I don't mind the snow as long as it's not too cold for my paws!
Are you a patient, loving person who's ready to give Frankie all the belly rubs he can handle? Interested in adopting? Email our adoption coordinator kristi@pugpartners.com and let her know why you think your home is a perfect match for Frankie!
Frankie's minimum adoption donation is $350.
Can't adopt, but want to make a big difference in the life of this pug? Become a sponsor today!