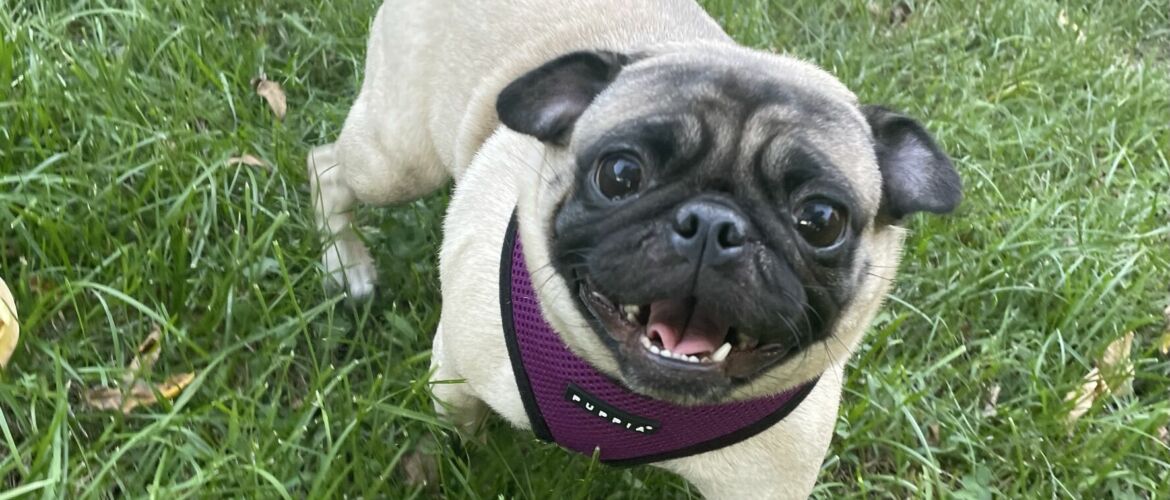 Hazel
PLEASE NOTE: All of our adoptable dogs are NOT adopted on a first come, first serve basis. We match the right pug with the right family. Please read the entire bio and details below before emailing. Failure to read all may result in no response or denial. The requirements for each dog are NOT negotiable so please do not ask.
Name: Hazel
Age: 3 yrs old
Sex: Female
Previous Life: Breeder Release
Weight: 18 lbs and on a little bit of a diet
Altered: Yes
Housebroken: Working on it! Delayed start in training due to a UTI.
Good with dogs/cats/kids: Yes, will need another dog to take the lead and help her learn. She does better on a leash when following another dog as well/Yes/Yes, younger children may startle her but children who sit still and let her come to them, she takes her time, but enjoys affection from all.
Likes: Clothes! She's a laundry thief!! She loves Stella & Chewy's wild weenies and Fromm crunchy O's, giving kisses and lots of snuggles.
Dislikes: Loud noises may startle or make her skittish but she is coming along well.
Crate trained: Yes. We tell her to go to "your place" and she'll run in and wait for a treat. She does not care to be kenneled while people are home.
Fenced yard required: Yes. A fenced yard is preferred.
Special Needs/Notes: None
Hazel is a sassy sweetheart who's willing to give you her heart-and a piece of her mind, once she's learned to trust you're good peoples!
A cuddle pug through and through, she's always down for a good snuggle with you or a pug/frenchie friend.
Hazel loves to follow you about and if not close, it's likely she's snuck off to find laundry to run around with!
Zoomies are a must after a good morning potty break, Hazel loves to show off her speed and appreciates the excitement to be returned. Hazel will give warning spins before she goes potty, and that's helped a bunch with house training-she's come a long way and praise has continued to help her understand where her business is to be done at!
Hazel is learning to walk on a leash, she does quite well walking with a snorky friend, and following one too. She is learning the noises of the world and has gotten a lot more confident!!
After all the zooming about and walks-and checking for left out laundry, Hazel is the BEST snuggler. She very much enjoys a chill evening being loved on, staying close to her pug foster siblings and foster mom.
Hazel enjoys an audience while she eats, she likes you to stay with her and be sure she's done a good job eating all her kibbles, she's been known to do a walk about the kitchen and come back to her kibble-so keeping an eye an opportunist pug doesn't check out her food before she's done is best!
All and all Hazel just wants to know she's loved and you think she's great! She loves when you say "hey girl hey Hazel!!" And will jump about and show you her funny side!! She's got a lot of love to give, and is eager to be shown that love back!
Due to the high frequency of applicants NOT ALL pre-screening emails will be responded to. PPN does not allow pugs to be shipped as cargo. For approved out of state adoptions requiring airfare the pug must fit in an airline approved sized carrier able to fit under the seat. Out of state adopters must arrange for transport and in some cases, we may have volunteers able to help.
Interested in adopting? Email our adoption coordinator kristi@pugpartners.com and let her know why you think your home is a perfect match!
Hazel's minimum adoption donation is $350.