Name: Bee Bee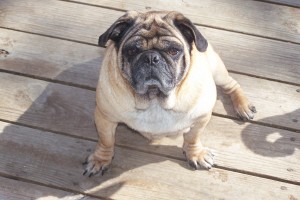 Age: 6 Years
Previous Life: Surrendered
Sex: Female
Weight: 25 lbs
Altered: Yes
Housebroken: Potty Training
Good with dogs/cats/kids: Yes
Likes: Loves to play with toys, walks, car rides
Dislikes: Unknown
BeeBee is a wonderful little dog! She sleeps in her kennel at night with a fuzzy pillow that she is fond of and her blanket. She has never cried or barked at night but is always ready to get out in the morning.
She is doing well with potty training and has never messed in her kennel.  Her accidents become less frequent in the house and usually when there is an accident it is in front of the door, so it's me that needs to be trained to watch her. She has lost some weight and we continue to work on that.
She loves to play and loves the toys. Bee Bee lives with 2 resident dogs and a cat, and there hasn't been one disagreement. She blended so well. The only time she does much barking is when she hears the garage door go up. We are going for walks and I put a harness on her rather than a collar. She just seems to do better with that.
I can't say there is anything she doesn't like. She loves to go for rides in the car and play with toys. She will occasionally grab one of my socks if I leave them on the floor but doesn't chew on anything else. I leave her out in the house during the day with my dogs and there is no destruction. Whoever takes her will be so lucky!
From Bee Bee- Adopted!, posted by PugPartners Nebraska on 1/24/2011 (12 items)