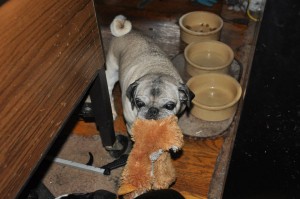 Name: Paige
Age: 11 years
Previous Life: Stray
Sex: Female
Weight:
Altered: Yes
Housebroken: Yes
Good with dogs/cats/kids: Yes
Likes: Rubbing my tummy and sitting on your lap
Dislikes: Unknown

Paige is a very sweet little girl, she loves to sit next to her human, but she isn't very affectionate, she just lays there and enjoys being rubbed on.  She gets along with the other dogs, but she would be great as a one owner dog.  She is housetrained, but due to some knee problems she needs a house with no stairs.  She is crate trained, but also enjoys sleeping with humans.  She does play with toys, they say she is probably 11 years old, but she acts much younger when she plays.
Paige is Adopted!