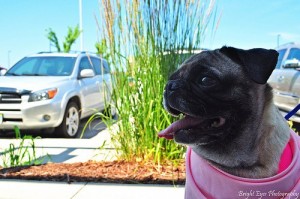 Name: Tillie
Age: 5 Years
Previous Life: Stray
Sex: Female
Weight:
Altered: Yes
Housebroken: Yes
Good with dogs/cats/kids: Yes/Yes/Yes
Likes: Sleeping with her foot in her mouth
Dislikes: Unknown
Hi, my name is Tillie and i am a 5 – 6 year old pug. I was found a stray off of 156 and Maple here in Omaha, thank goodness someone found me because I am sweet, loving and oh so kind! I love to sit with you on the couch or lay with you in bed. I just like to hang out with you. I do snore a little bit, so I hope you don't mind! I love to follow you back and forth wherever you go, because I am such a great companion. I get along great with other dogs, and children aren't a problem for me (and neither are cats). I like to walk outside with my brother Hutch and my sister Lily (I am able to be walked on a leesh and i am potty trained). I am also kennel trained! If you think you have room for me at your house, I would love to find my forever home with you! Thanks alot!
~Tillie
-Update on Tillie she is deaf and does need drops for dry eye but most pugs do.
Tillie is Adopted!!
Update from the adopted family:
Tillie and I are doing great.  She is training me and I am training her.  Smile.
I kept her name since she is deaf and it doesn't matter anyway.  The grandkids like it, so that is that.
She likes to be in the back yard, but always wants me to be with her.  I cannot imagine how limited her world is without hearing and one eye that is for all practical purposes blind.  Her joints slow her down but I think her back legs are getting stronger.
Our dogs love to sleep on Kuranda Dog beds, but we don't have enough for everyone.
If you would like to donate a bed at a special wholesale price for a another dog to sleep in comfort, please donate a Kuranda dog bed.