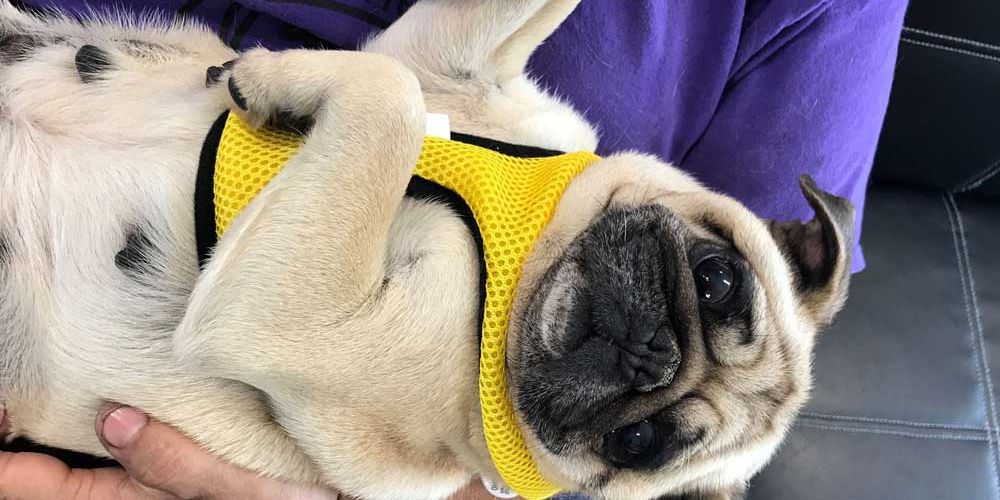 Veda
Name: Veda
Age: 6 yrs
Previous Life: Breeder Release
Sex: F
Weight: 17 lbs
Altered: Yes
Housebroken: Almost, occasionally will have an accident
Good with dogs/cats/kids: Yes/Unknown/Unknown
Likes: Squeaky toys, running in the yard and following the other dogs around.
Dislikes: Sudden movements and loud noises may scare me but I'm curious and love to be with people and other dogs.
Crate trained: No
Fenced yard required: Yes!
Hi, my name is Veda. I was rescued by the beautiful people of Pug Partners of NE from a life of breeding with 2 other pugs.
I have been with my foster family for only a couple of weeks and I am still skittish at sudden movements and loud noises.
My mom is home with me all day so I follow her. She is so proud of me, I was a quick learner pretty much potty training myself by watching the other dogs using the doggy door. I had to learn to use the stairs to go to the yard and basement so I could follow mom around the house.

I sleep with my foster family and the other Pugs. When we are all in bed (2 adult, 4 pugs), I am happy and ready to go to sleep next to your pillow. I use doggy stairs to get in and out of bed. Sometimes I go to bed without you. So it you can't find me check the bed.
I do not jump on furniture you have to pick me up and sit me on your lap to pet me. I do like to make you chase me around the couch and kitchen island trying to catch me though.
Interested in adopting? The minimum adoption fee for Veda is $325.
Can't adopt, but want to make a big difference in the life of this pug? Become a sponsor today!