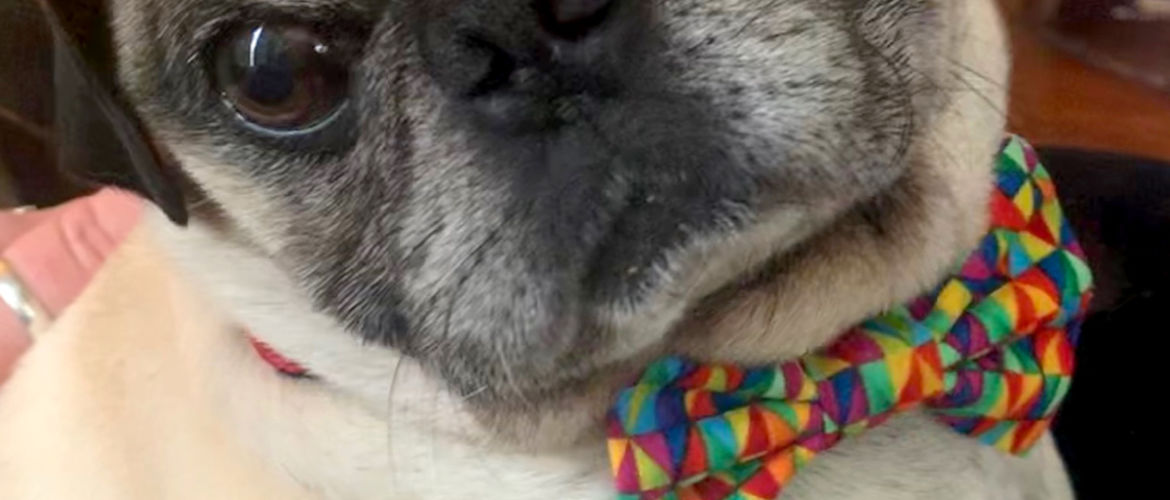 Titan – Medical hold
Name: Titan
Age: 8 yrs
Previous Life: Breeder Release
Sex: Male
Weight: 21 lbs
Altered: Yes
Housebroken: Working on it!
Good with dogs/cats/kids: Yes, calmer dogs preferred/Unknown/Ages 6+
Likes: Toys – Preferably a large stuffed animal to chew on. Treats – He's super picky about his treats, they can't be too hard or bland. Activities – pretty much everything he does and can take part of makes him happy but absolutely LOVES sitting or laying in the grass and just looking around until it's time to go in, car rides, relaxing and snuggling, particularly in bed.
Dislikes: Loud noises (thunder/fireworks) and sudden movements may scare him
Crate trained: Yes, but not always a fan.
Fenced yard required: Yes, must have a fenced yard
Hi pug lovers! My name is Titan and I am looking for my forever home. I am 8 years young , but I've spent my whole life as a breeding pug. Those days are over and I am enjoying everything about the pug life. I am very sweet, happy, snuggly, smart, curious, creative and enthusiastic! I'm rarely grumpy and I don't let much get me down!
I am pretty laid back so I am looking for a laid back home. I would do best in a home with kids that are a little older (6+) because I am pretty chill and don't like to roughhouse. I would prefer the other fur members to be laid back as well. I want to go for walks so I maintain strength in my hips/legs. I love walks and I do great on a leash, I am just polishing up my manners. I need to make sure that I have a yard with a fence. I love having a fence because I can be independent so I run/walk around at my pace. Plus, I love sitting in the grass and looking around at the environment. I try to sneak this in after I do my business whenever I go outside. I would sit out there all day if it was safe.
I have done a great job with potty training, picking it up right away when I came to rescue and have had minimal accidents. When my foster family is not home, I go to my crate otherwise I hang out with my foster mom wherever she is at. I love sleeping in her bed at night. I am a very smart boy and I am eager to learn. If there is something I want, I get creative in figuring it out on my own. If you teach me what is right and wrong, I learn it quickly and I don't have to be told too many times.
Titan's minimum adoption donation is $275. Interested in adopting? Email our adoption coordinator kristi@pugpartners.com and let her know why you think your home is a perfect match for Titan!
Can't adopt, but want to make a big difference in the life of this pug? Become a sponsor today!