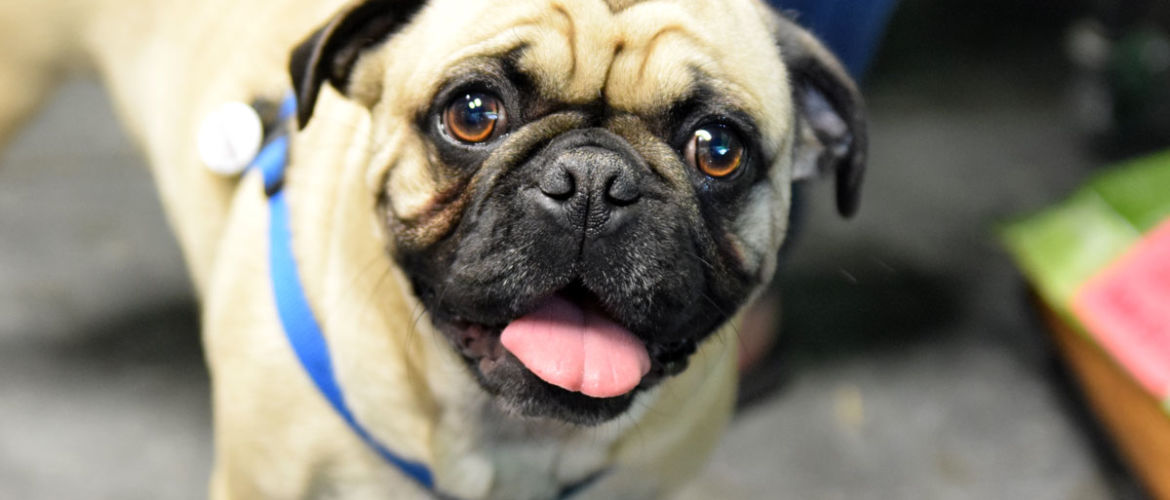 Augie – Adopted
Name: Augie
Age: 1
Previous Life: Owner surrender
Sex: M
Weight: 26 lbs.
Altered: Yes
Housebroken: Yes – has only had one accident in my foster home but must go out right after I eat. I prefer to have frequent breaks if you are home.
Good with dogs/cats/kids: Yes (submissive males), loves his foster sister/Unknown/Children 12 and older
Likes: Playing with toys, snuggling, watching TV, snuggling with my foster sister
Dislikes: Doesn't like dominant dogs
Crate trained: Yes, but sleeps in bed with my foster family at night.
Fenced Yard Required: Yes
***Special Needs: None – healthy and happy!
Hello pug lovers!
My name is Augie! I am a one-year old handsome guy and I am a big boy, weighing in at 26 pounds. I am playful like a puppy, but I love to lay and snuggle with my foster mom. She says I am a great pug to snuggle with. My favorite thing ever is TOYS! I love big toys that I can run around with and shake around. I am good about not destroying them and I like having plenty around to choose from. I would do best in a fenced in back yard because I love to run around and burn my extra energy off. I am also a unique pug because I love the snow! I had a blast when there was a bunch of snow on the ground.
I would do best in a home with another dog that loves to play and doesn't mind my size. I would NOT do well with a dog that is dominant and has to be the center of attention all of the time. I don't understand the dominance thing, so I get in to arguments when my fur foster brother is being dominant. I have never bitten when we argue and have never tried to bite, but with my size I can push around and pin a smaller dog. If your fur baby loves to play and doesn't mind sharing the attention, then we would get along great. I seem to get along with laid back dogs but have done best with my fur sister. I let her tell me when to stop and I stop. I would also do better with older kids because of my size. I could easily knock over a little kid accidentally when playing.
I am protective of my food. I am fed separately from the rest of my family and that works out great for me, because I get to eat in peace! I enjoy getting a treat from time to time. I love carrots and ice cubes. However, ice cubes are both toys and treats for me, just depends on my mood. I like to spit them out and go running after them at times. I am such a silly boy!
If your family and fur baby would like a fun, goofy, smart, snuggler, and bigger pug, then I am your guy! Did I mention that I know how to sit, wait for my food until you tell me it is OK, and shake? I bet you could teach me so much more! I also love watching the TV. Sometimes I bark at it. If you are interested in learning more about me, then inquire through Pug Partners! I look forward to getting to know you.
Interested in adopting? Augie's minimum adoption donation is $400.
Can't adopt, but want to make a big difference in the life of this pug? Become a sponsor today!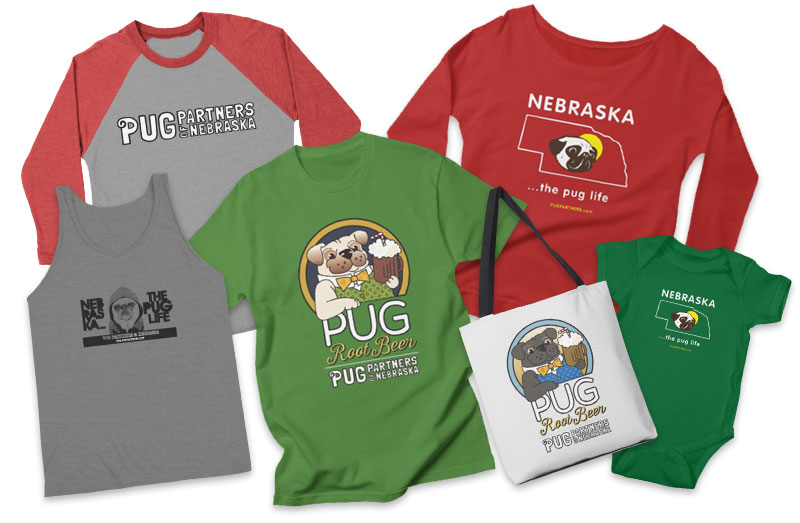 Go Shopping & Help Save Pugs!
Pug Partners now has an online apparel and accessories store. The best part is, every purchase supports our pug rescue efforts!