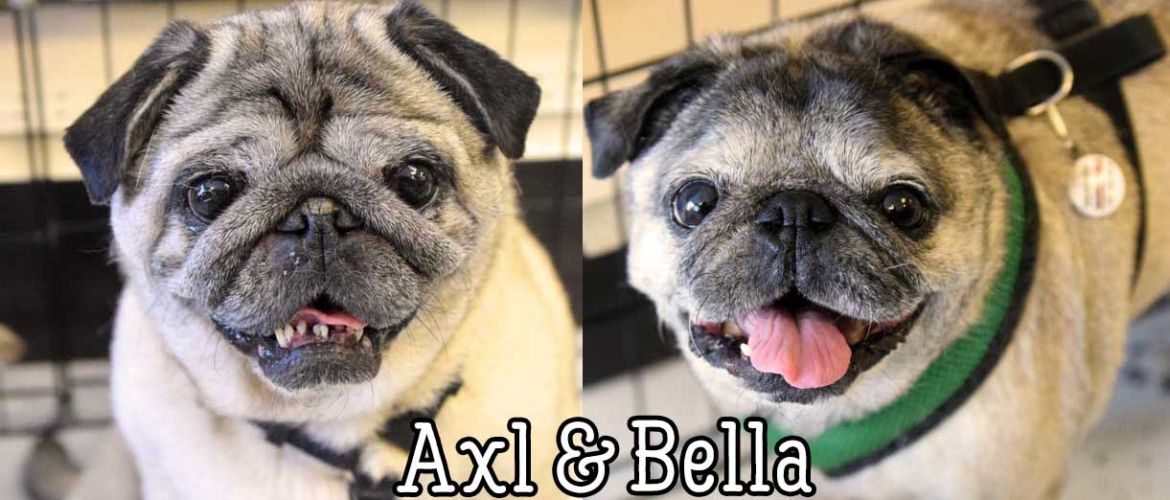 Axl & Bella
**Bella and Axl are a bonded pair and will not be separated**
Name: Bella (wearing green harness in photos)
Age: 10
Previous Life: Owner surrender
Sex: F
Weight: 14 lbs.
Altered: Yes
Housebroken: Yes
Good with dogs/cats/kids: Yes/Unknown/Yes
Likes: Wrestling with stuffed dragons and dinosaurs & sleeping
Dislikes: None
Crate trained: Yes
Fenced Yard: Yes
Name: Axl (wearing black harness in photos)
Age: 9
Previous Life: Owner surrender
Sex: M
Weight: 24 lbs.
Altered: Yes
Housebroken: Yes
Good with dogs/cats/kids: Yes/Unknown/Yes
Likes: Sleeping
Dislikes: None
Crate trained: Yes
Fenced Yard: Yes
Special Needs: Axl may be starting to lose some vision as he sometimes bumps into things around the house. He will require eye ointment in his right eye daily.
Hi, we're Bella & Axl and we're a bonded pair in search of a new home. At 9 & 10 years young, we are just too in tune with each other and set in our ways to not live together, so we come as a matched set!
Bella is the "grown up" but once you start wrestling with her stuffed toys, I bet she'll out-last you. She's still pretty spry for a "seasoned senior" and says 10 is the new 6! Axl is the baby at 9 but takes a more measured approach to life. He loves hanging out by the couch and watching the tube with the family. Easy going is how he rolls, but he does love a good walk or joining with the gang to let the mailman know he is not welcome at the door. Both enjoy hanging out in the yard, running off really isn't in their wheelhouse anymore, but they will explore the neighbor's place. They might have food! They're both potty-trained and comfortable in a kennel if need be, but totally prefer the big pillow by the couch. They both get along with other non-alpha pugs (their foster brother is 7 and they really get along well, as long as no one eyes someone else's food bowl).
So, what do you think? We really love to hang out, catch up on our naps, grab some chow, and just chill. Life really is good being pugs.
Interested in adopting? The minimum to adopt this pair is $400.
Can't adopt, but want to make a big difference in the life of this pug? Become a sponsor today!