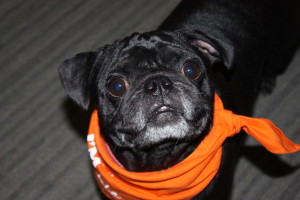 Name:  Barney
Age:  4
Previous Life:  Owner surrender
Sex:  M
Weight:  20 lbs
Altered:  Yes
Housebroken:  Yes
Good with dogs/cats/kids:  Yes/Unknown/13 and older
Likes:  Being outside sun tanning himself
Dislikes:  Dominant male
Crate trained:  Yes
Barney is so sweet. He is full of energy and loves to play. But, he can also lay on my lap and watch movies. He gets along with both my male and female pug. He does seem to be the dominant male. He loves attention and will push them out of the way to be close to me. He loves toys and brings them to bed with him. He is crate trained and will go right in when I tell him too. He doesn't like to be picked up or restrained and is not a fan of small children. You will have to build trust with him before he lets you pick him up. He is a fun dog and has a great personality.
Interested in adopting Barney? Please see our website and fill out an application at: www.pugpartners.com/adoption-application Barney's minimum adoption donation is $350.