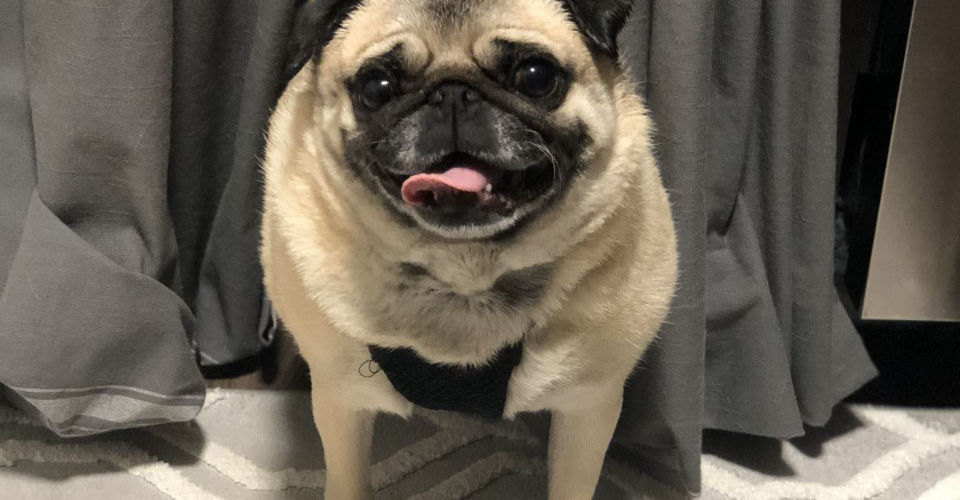 Bella – Adopted
Name: Bella
Age: 6.5 yrs
Sex: Female
Previous Life: Owner Surrender
Weight: 17.5 lbs and needs to lose a few more pounds!
Altered: Yes
Housebroken: Working on it!
Good with dogs/cats/kids: Dogs: Yes, but she is dog-selective. Does well with other small laid back dogs, can be very dominant with females smaller than her. Cats: No cats are preferred as she may chase them. Kids: Unknown
Likes: Her favorite toys are ANY squeaky toy, all time favorite is her squeaky lambchop
Dislikes: Just vacuums! Also gets skittish at first when harness is first put on at beginning of the day
Crate trained: Yes
Fenced yard required: Preferred
Special Needs:
-Her vulva will need to be monitored closely for tumor regrowth, and she also has a history of urinary tract infection, ear infection, and a skin fold infection, so she will need to be monitored for recurrence of these issues.
-Does NOT like other dogs coming near her while she is eating, growls and guards, also guards her toys from dogs and cats at times.
Bella loves you already — and you've only just met through a picture! Bella is a sassy, confident, independent pug looking for a home who will appreciate her princess attitude. Bella is a very active young pug and loves to play fetch with her squeaky toys and go on walks — especially since she knows she needs to shed a few more pounds! Even though she is very active, she also loves to snuggle on the couch and sometimes will fall asleep getting belly rubs on your lap! She was given up by her previous owners because she had a tumor growing on her vulva. It turned out to be a low grade cancerous tumor, which Pug Partners had removed as well as fixing her respiratory issues by doing upper airway surgery. Bella has had some medical setbacks but she doesn't let that stop her from being a show stopper! She is the perfect companion for an active family and has enough personality to keep you entertained for years to come. All this girl needs is a chance at a new forever!
Bella's minimum adoption donation is $325.
Interested in adopting? Email our adoption coordinator kristi@pugpartners.com and let her know why you think your home is a perfect match!
Can't adopt, but want to make a big difference in the life of this pug? Become a sponsor today!