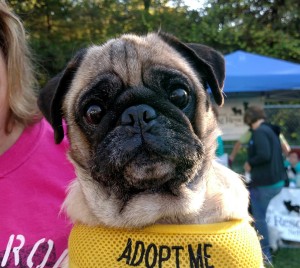 ADOPTED!
Name:  Bentley
Age:  4
Previous Life:  Puppy Mill
Sex:  M
Weight:  17 lbs
Altered:  Yes
Housebroken:  I'm working on it!
Good with dogs/cats/kids:  Yes/Yes/Yes
Likes:  Getting lots of attention, sleeping in bed, hanging out in the pug pile, exploring the yard
Dislikes:  Sudden movements are a bit scary still
Crate trained:  Yes
Hi, my name is Bentley and I LOVE people! I was rescued from the puppy mill just a few short weeks ago but I'm very well adjusted and am getting along great in my foster home. I get along with my pug siblings, my human siblings (13 year old twin girls and my 16 year old brother) and we also have a cat. I don't bother her and she doesn't bother me and we like it that way! I immediately loved attention and I still can't believe my amazing good fortune of being allowed to sleep in bed with my people and pugs. Most mornings I don't even want to get up because I am sooooo comfortable! My foster dad says there isn't enough room in the bed for all of us but I don't see any problem with it at all! My foster mom works nights so us pugs love to sleep in bed with her during the day. I love exploring the yard and laying in the pug pile with my three foster pug siblings. I don't see very well and at first I ran into a few things and took one tumble down the stairs. I am adjusting very well now that I am learning where things are. I go up the stairs just fine and we are working on going down the flight of 15 stairs. I have mastered the 3 steps from the porch to the yard, both up and down. My foster mom says I'm doing so well that sometimes she forgets that I don't see that well. I am doing pretty good with housetraining. Mom says I was easier than most because since I don't see that well, I didn't know when people were watching me and I would get caught in the act, so I learned pretty quickly that they want me to go outside to do my business. I am a very happy pug and I am very grateful to have been rescued by Pug Partners. I have a silly, delightful personality and my mom says I am going to make my furever family very happy when they find me!!
If you think you would be interested in meeting me or if you have any questions about me or one of the other pugs available please complete an application at:
https://www.pugpartners.com/our-pugs/adoption-procedures
Interested in adopting Bentley? Please see our website and fill out an application at: www.pugpartners.com/adoption-application Bentley's minimum adoption donation is $350.