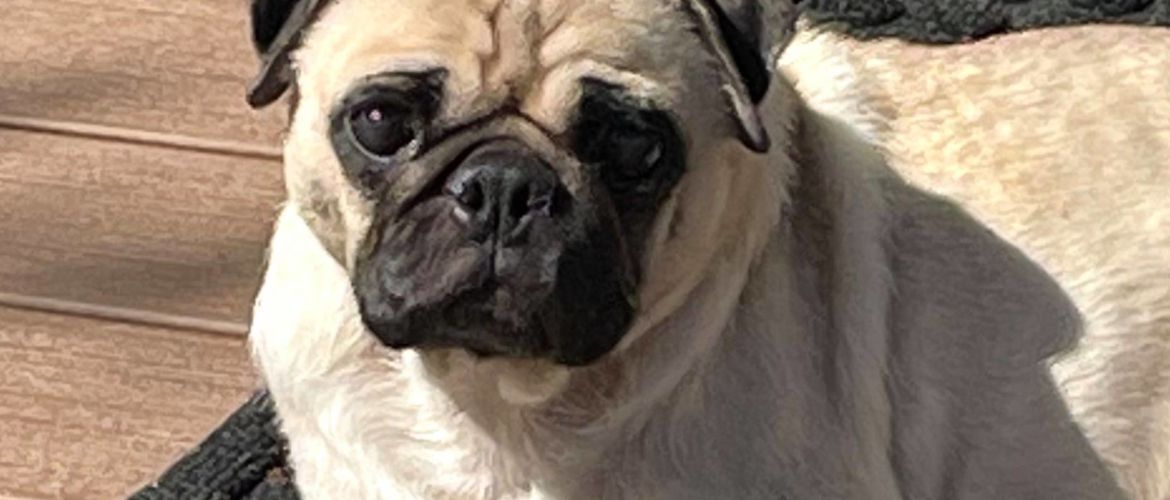 Billie – Adopted
Name: Billie
Age: 4 years
Sex: Female
Previous Life: Breeder Release
Weight: 18 lbs
Altered: Yes
Housebroken: Nearly 100% when taken out regularly
Good with dogs/cats/kids: Yes, requires another dog/Unknown/Yes
Likes: Likes snuggling on the couch, some chews, some stuffies and loves food!
Dislikes: Walking on a leash but is working on it
Crate trained: Work in progress. She does not care for the crate but is crated when foster is not home as she has chewed on cords.
Fenced yard required: Yes, a fenced yard is a must and she will bolt if given the opportunity.
Special Needs: Requires eye drops
My name is Billie! Or Billiebeans, Billiebumps, whatever really! I had some puppies in the past, but I'm happy that I don't have to do that any more. It took me some time to get used to the fact that people really only want to love me, but I know that now and I love everyone back! I live with my foster brother Joe, and he's taught me everything I know about being a pet. I follow him down the stairs even though I'd never tried stairs before! We like exploring in the yard. I am learning that the faster I potty, the faster I get a treat! I have a soft bark, but i'm working on that too. Foster Mom says I don't need to work on that one, but whatever. I love to cuddle on the couch with my Foster mom or dad, and a nice blanket. I'm learning that I can sit BESIDE them and not ON TOP OF THEM and get scratches just as well. I love me some scratches, everywhere please! I'm learning to walk on a leash but find that it's quite limiting when I want to take off and explore, so you'd better hold on tight. At night, I cry and cry in the kennel but sleep all night long in the big bedroom with the people and Joe in our dog beds. I would love to have a child to play with, as I have lots of energy! I might be a bit much for an older person as I will wind around legs and get underfoot as much as I can.
Interested in adopting? Email our adoption coordinator kristi@pugpartners.com and let her know why you think your home is a perfect match!
Billie's minimum adoption donation is $350.
Can't adopt, but want to make a big difference in the life of this pug? Become a sponsor today!