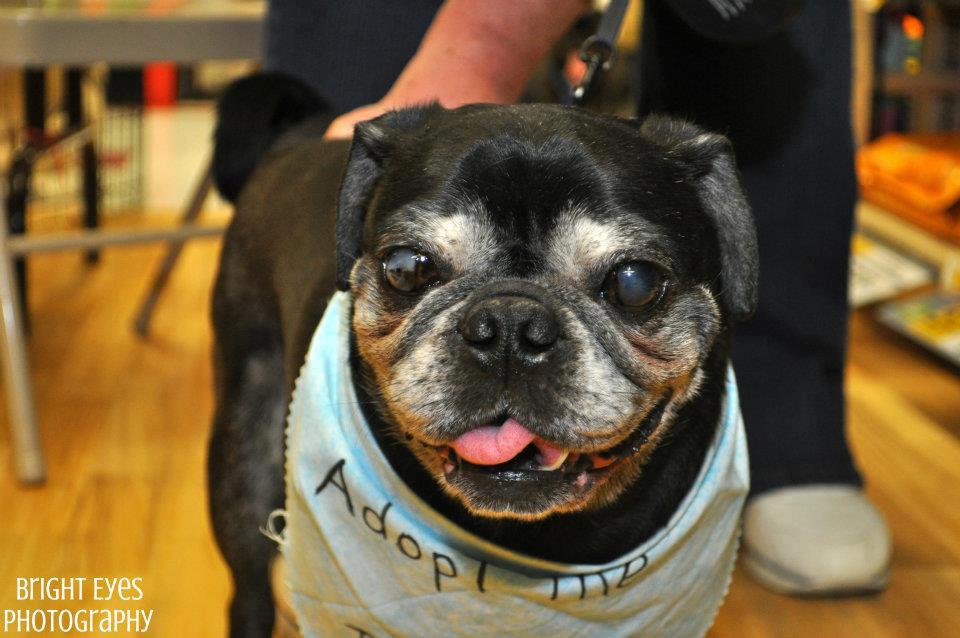 Name: Black Jack
Age: 10
Previous Life: Surrendered by breeder
Sex: Male
Weight:
Altered: Yes
Housebroken: Yes
Good with dogs/cats/kids: Yes/Yes/Yes
Likes: Walks, dancing for treats
Dislikes: Startled away when sleeping
Update from foster home –
Black Jack has been taken off of canned prescription dog food and now is getting a high protein dry food with a dried cranberry supplement. He is doing very well with the change.
He looks forward to visits from our grandsons, 3 and 5 yrs old, he loves little kids! If the boys are playing on the floor Black Jack will cuddle up next to them while they play, he   follows them every where if they are on the move.
He gets along well with cats & dogs his size or smaller but does not like larger dogs.
He walks well on leash and is getting very good at following hand commands…you see Black Jack is very hard of hearing.
He is a very good watch dog (emphasis on watch). He is usually found on the back of the couch watching everything going on outside the window or he is cuddled up next to my hubby or me. He is quite the cuddle bug. He also sleeps with us cuddled up but not moving until I get up in the morning….he is not a bed hog <grin>
He follows me everywhere I go in the house and will lay in the door threshold watching me if I am busy cleaning. He keeps is paw on the pulse of what's going on all the time.
He plays now if we get on his level and pat the floor on either side of him, he gets excited running all over or putting his mouth on one hand then the next. He is a very gentle guy.
He still has to wear a belly band in the house, you see he tends to mark. He is very very smart, it is nothing for him to figure things out quickly especially when it comes to getting treats.
He is house broken, no messes in the house other than marking which the belly band handles quite well. He can be left alone in the house unrestricted, we have left him as long as 8 hours without a problem.
The family that invites Black Jack to be their furever pug will be very lucky, we love him very much, it is hard not to love him.
Update: Black Jack is being adopted by his foster family! Congrats to Black Jack and his furever family!!