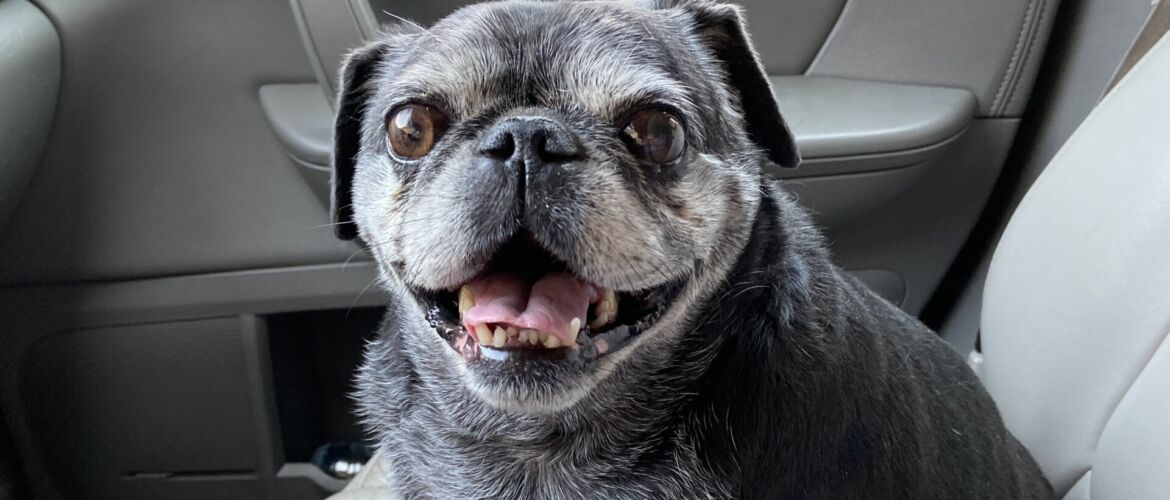 Bruno
PLEASE NOTE: All of our adoptable dogs are NOT adopted on a first come, first serve basis. We match the right pug with the right family. Please read the entire bio and details below before emailing. Failure to read all may result in no response or denial. The requirements for each dog are NOT negotiable so please do not ask.
Name: Bruno
Age: 8 yrs old
Sex: Male
Previous Life: Owner Surrender
Weight: 27 lbs and on a diet
Altered: Yes
Housebroken: Yes! Bruno rarely has an accident in the house.
Good with dogs/cats/kids: Yes/Yes/Unknown
Likes: Loves stuffed toys and attention!
Dislikes: None
Basic Commands: Bruno knows how to sit, stay, down and can shake with both paws!
Crate trained: Yes. Bruno was not kenneled at his original home and I haven't kenneled him here very often but he will go into a kennel and isn't unhappy about it.
Fenced yard required: Yes. Bruno loves to explore the yard on his own and he needs the exercise!
Special Needs/Notes: Bruno has lost 3-4 pounds since he has been in foster care. He could still lose more weight but new family needs to make sure he doesn't gain the weight back again and maintains a healthy weight.
Hi! My name is Bruno and my foster Mom says I am a love pug! I was surrendered after my owner passed away. When I came into foster care, I weighed 32 pounds and could hardly breathe. My Mom couldn't even make a phone call if I was in the room because of my loud breathing! I have been on a very strict diet and have lost between 3-4 pounds. I breathe quietly now and I have soooo much more energy. Since I have lost weight, I have started playing with toys and the other dogs. My Mom believes I probably ate a lot of table scraps in place of dog food. A healthy diet of good food has made a huge difference in my life! It is very important that my new family keeps me on a healthy diet and doesn't let me gain weight back again.
I love to be around my people, whether that is following them around the house, laying under the desk when Mom works or cuddling on the sofa watching TV. I just want to be near the people! I often will rest my head on someone and gaze into their eyes. I love stuffed toys and that often ends with me taking the stuffing out of them. I sometimes play tug of war with one of the other dogs and I usually win because…..well….I've got a little weight on my side! I get along fine with the cat that lives at my house. I was very curious about her to begin with but now that I'm used to her, we lay on the bed together and get along just fine. I get along with all people and dogs that I have came into contact with. We don't have any small children but my Mom thinks I would get along just fine. I am very tolerant. I walk on a leash but enjoy the freedom of exploring the yard on my own. I haven't spent much time in a kennel. I am trusted to have the run of the house. I am very well house trained and rarely have an accident. I have been kenneled and it does not make me unhappy. Did I mention that I am very handsome? Don't let the silver fool you, the vet says I am around 8 years old and now that I'm healthier, I have a lot of energy. I am looking for an awesome family who will love to give me scratches and lots of attention. Are you the right family for me?
Due to the high frequency of applicants NOT ALL pre-screening emails will be responded to. PPN does not allow pugs to be shipped as cargo. For approved out of state adoptions requiring airfare the pug must fit in an airline approved sized carrier able to fit under the seat. Out of state adopters must arrange for transport and in some cases we may have volunteers able to help.
Interested in adopting? Email our adoption coordinator kristi@pugpartners.com and let her know why you think your home is a perfect match!
Bruno's minimum adoption donation is $275.