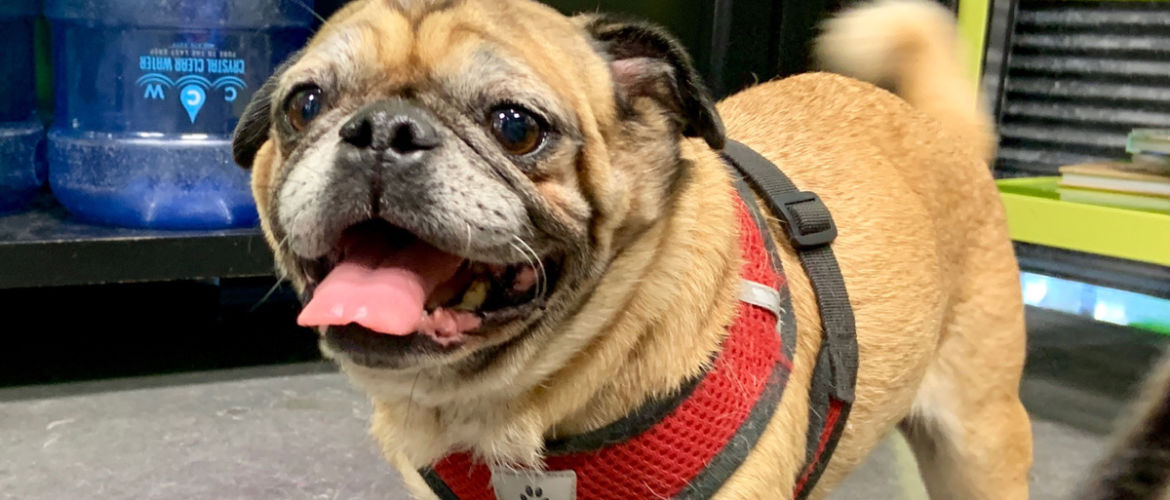 Cece – Adopted
Name: CeCe
Age: 7 yrs
Sex: Female
Weight: 17 lbs
Altered: Yes
Housebroken: Working on it!
Good with dogs/cats/kids: Yes (another small dog preferred), Yes, Yes
Likes: The yard and exploring as well as stuffed toys but she will eat the stuffing if she is left unsupervised
Dislikes: CeCe is startled by unsuspected noises or movements. Older children only please.
Crate trained: Yes
Fenced yard required: Yes
Special Needs: Continue healthy diet for weight loss
Hi! My name is CeCe. I am a beautiful apricot pug learning to live the good life. I am still a little cautious of people but I really want to interact with my foster family but I'm still not completely trusting. If you are looking for a pug that you can help learn the joys of living with a family, I am your pug! I have all the desire, I just need to build the confidence!
I came to my foster home with my sister, Chrissy. I really enjoy hanging out with her and my foster pug siblings. We spend a lot of time exploring the yard and running along the fence when an occasional car comes by. Since it's getting colder we don't stay out very long but I enjoy being in the house too. I like to lay in the dog beds with the other pugs and sometimes I will play with a stuffed toy. I will eat the stuffing out of a toy if I have the opportunity so I need to be supervised with stuffed things.
I recently learned to go up and down the 13 stairs to the upstairs part of our home. I was really excited about that because it gave me a whole new area to explore. I like sleeping in the bed with the people and pugs but I'm also content to sleep in my crate. I am VERY willing to go to my crate when asked because I get a treat when I do so and I really like treats.
I get along with kids, cats, dogs, etc. We have a cat at my foster home and we both just mind our own business and it works out fine. If the truth be known, I'm a little afraid of her, but don't tell the cat that!
My foster Mom says I'm a sweet girl and I'll make my furever family super happy! There will be many rewards for both me and my furever family as I learn to trust and become part of my very own family.
Cece's minimum adoption donation is $275. Interested in adopting? Email our adoption coordinator kristi@pugpartners.com and let her know why you think your home is a perfect match for Cece!
Can't adopt, but want to make a big difference in the life of this pug? Become a sponsor today!