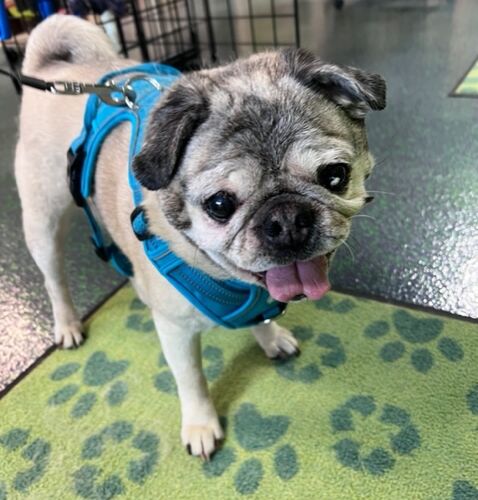 Charlie
PLEASE NOTE: All of our adoptable dogs are NOT adopted on a first come, first serve basis. We match the right pug with the right family. Please read the entire bio and details below before emailing. Failure to read all may result in no response or denial. The requirements for each dog are NOT negotiable so please do not ask.
Name: Charlie
Age: 14 years
Sex: Male
Previous Life: Owner Surrender
Weight: 24.6 lbs
Altered: Yes
Housebroken: Yes but would prefer frequent bathroom breaks and not to be left for long periods.
Good with dogs/cats/kids: Yes/Yes, Most likely if they do not bother him/Yes, older kids preferred; dog savvy kids.
Likes: Sleeping, eating and snuggling
Dislikes: Going down stairs and minimal stairs in the home would be preferred.
Crate trained: Yes
Fenced yard required: No
Special Needs/Notes: Charlie does not see well so he needs to be monitored closely. Would do better with another dog that he can follow around – my dogs help him get around the house and yard. He can go upstairs but can't see well enough to go downstairs – needs assistance if stairs are part of home. Charlie is pretty much deaf – can hear higher tones. Charlie has dry eye, cataracts & PK – he can see enough to get around, but vision is very limited. Can go upstairs but will not go downstairs. He requires eye medication a few times a day. He is very healthy for his age! He does have some stiffness and arthritis, but chiropractic appts and joint supplements (Cosequin; Trixsyn; Carprofen) have helped. He does have some separation anxiety when I am gone, but overall is doing really well for his age!
Hi Pug Lovers!
Charlie is a teenage pug looking for a new home that he can settle into furever! Charlie was surrendered to PPN for no fault of his own. He's fluffy, fabulous, and such a good boy. If you have allergies, Charlie is not the pug for you! Charlie's hobbies include sleeping, eating, snuggling, and taking long strolls around the yard.
At Charlie's age, he does have arthritis but is not nearly as stiff since starting supplements. He will benefit from ongoing chiropractic treatments if it's available. His vision is limited due to cataracts & PK, but he gets around really well. He can go upstairs, but can't go downstairs due to limited vision. Other than his vision and some typical arthritis- Charlie is a healthy boy and gets around great for his age!
Charlie is looking for a quieter home to settle into and call his own. He would love it if someone working from home, but would be fine as long as he has regular bathroom trips that are needed in his senior years. He does seem to like older kids that he can snuggle with on the couch. He does well with other dogs. He would benefit from another furry friend in the house to help him get around and learn his new routine. As long as he has a bed to lay in with you or next to you – he is a happy boy!
Due to the high frequency of applicants NOT ALL pre-screening emails will be responded to. PPN does not allow pugs to be shipped as cargo. For approved out of state adoptions requiring airfare the pug must fit in an airline approved sized carrier able to fit under the seat. Out of state adopters must arrange for transport and in some cases we may have volunteers able to help.
Interested in adopting? Email our adoption coordinator kristi@pugpartners.com and let her know why you think your home is a perfect match!
Charlie's minimum adoption donation is $175.