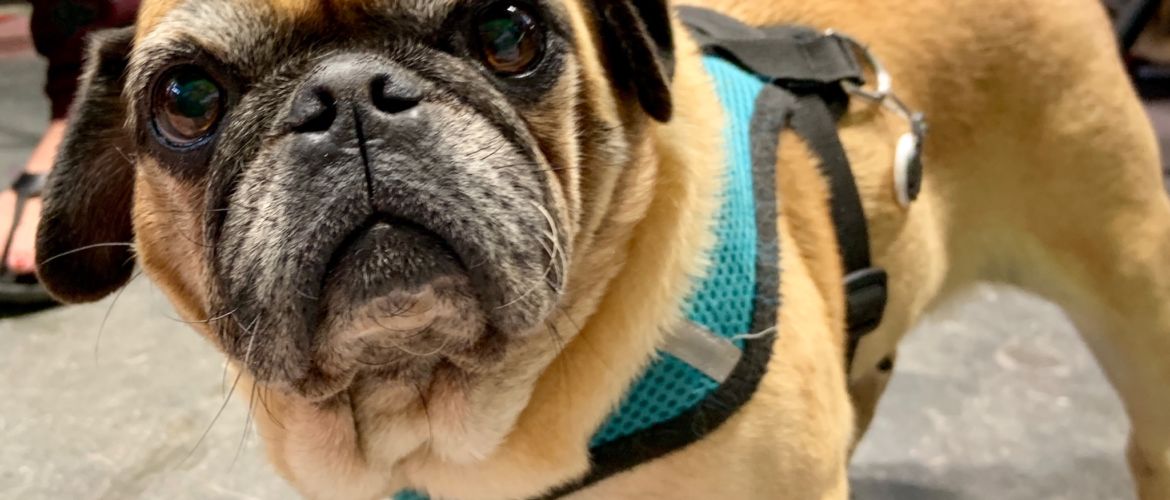 Chrissy – Adopted
Name: Chrissy
Age: 7 yrs
Sex: Female
Weight: 17 lbs
Altered: Yes
Housebroken: Working on it!
Good with dogs/cats/kids: Yes (another small dog preferred), Yes, Yes
Likes: The yard and exploring as well as stuffed toys but she will eat the stuffing if she is left unsupervised
Dislikes: Chrissy is startled by unsuspected noises or movements. Older children only please.
Crate trained: Yes
Fenced yard required: Yes
Special Needs: Continue healthy diet for weight loss
Hi my name is Chrissy! I am a beautiful apricot pug looking for my furever home! I was a little timid when I came to my foster home but I'm learning to trust people and enjoy being part of a family. I get along well with people, kids, my foster family's cat and pretty much everyone I come in contact with.
Last week I went to one of my human foster sibling's cross country meets. I walked very well on my leash and I enjoyed meeting all the people who wanted to see me. I hate to brag but I was VERY popular! I enjoy hanging out in the yard with my sister, who also came to foster care with me and the two resident pugs. We chase each other around and we really love to lay in a pug pile together in the sun. Now that it is getting colder, we haven't been outside as much but I love being inside too. I sometimes lay in one of the dog beds but if I'm really lucky one of the people will put me on the couch with them! I also like sleeping in the bed with the people and other pugs but I'm also fine with sleeping in my crate.
I like to play with stuffed toys. My sister, CeCe and I sometimes will play a little tug-a-war with them. I really love treats and will do just about anything for them. I run fast to my crate when I'm asked to because I know I'll get a treat when I get there! I recently learned to go up and down the 13 stairs to the upstairs of our house! Whoa, that was a little scary at first! But there are great things upstairs, like my crate, the big people's bed and TREATS!
I enjoy being around other dogs and would prefer another small furry friend. I really like people and now that I'm becoming more trusting, I really enjoy being around my people. I'm looking for the perfect furever home that will continue to help me learn to trust and become part of my very own family!
Chrissy's minimum adoption donation is $275. Interested in adopting? Email our adoption coordinator kristi@pugpartners.com and let her know why you think your home is a perfect match for Chrissy!
Can't adopt, but want to make a big difference in the life of this pug? Become a sponsor today!