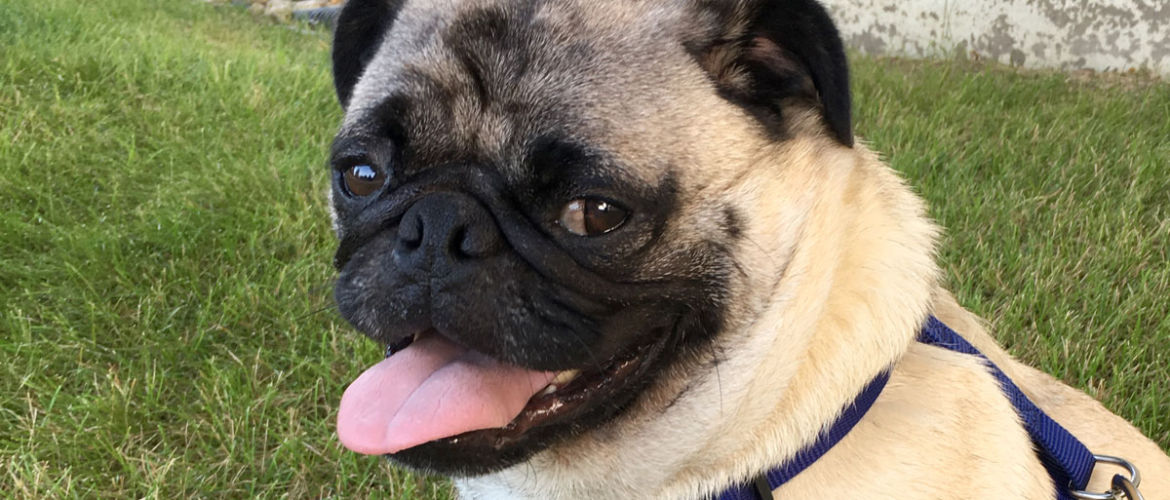 Chuck
Name: Chuck
Age: 3.5
Previous Life: Owner Surrender
Sex: M
Weight: 31 lbs
Altered: Yes
Housebroken: Yes
Good with dogs/cats/kids: Yes/Unknown/Yes
Likes: Going for walks, having his belly and face rubbed, and chewing on a bone.
Dislikes: None
Crate trained: Yes
Hi, I'm Chuck!
I'm an all-around pug. I like to take walks and play just as much as I like to sit on the couch and watch a movie! I'm happy 99% of the time and only want happiness for you as well. I have been VERY well fed and am currently trying to cut back on the amount of food I eat. I would love for my new family to take me for walks every day, as long as it is not too hot of course. Although I like to eat, I am a very active pup! You would be surprised about how much I love to run around, play fetch, and jump up after my toys.
I would love to sleep with my foster mom every night, but I usually do just fine in my kennel with a pillow. I only whine a little when you leave me for the night or for work in the morning, but I am always very excited to see you when your return. I can't say I LOVE baths, but they aren't the worst thing in the world! I stand still until my foster mom finishes.
Sometimes I forget we are going outside to potty, and I could probably sniff trees for hours! However, I haven't had a single accident in the house yet. So far I have gotten along with everyone I have met (children, adults, other dogs).
I look forward to meeting my new family!