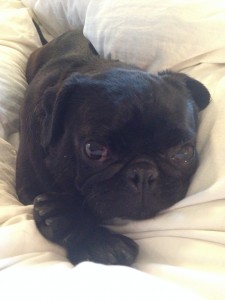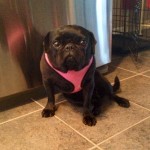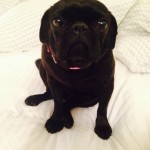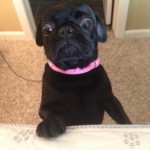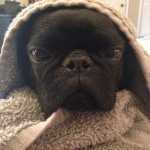 Name:  Claudette
Age:  4
Previous Life:  Breeder Auction
Sex:  Female
Weight: Unknown
Altered: Yes
Housebroken:  Working on it!
Good with dogs/cats/kids: Yes/unknown/10+
Likes:  Cuddle, play and give kisses
Dislikes: Unknown
Crate trained:  Yes
From her foster home:  Claudette has the nickname sweet pea at our house, because she is nothing but sweet! She gets very excited when we come home, and greets us with a wagging tail, and kisses! She likes to play with our two other pugs, and also us! She likes to cuddle (she sleeps with us at night) she is working on walking up/down the stairs but is doing well! She is also working on potty training and doing great. She is crate trained. I think she would do great in a home with other dogs, she hasn't been around kids, but I think she would do great with older kids (10+). She still gets a little scared when you walk towards her to pick her up, and tries to avoid you. But at the same time she follows us around the house. I noticed she really likes when we are on her level (sitting/laying down on the floor).