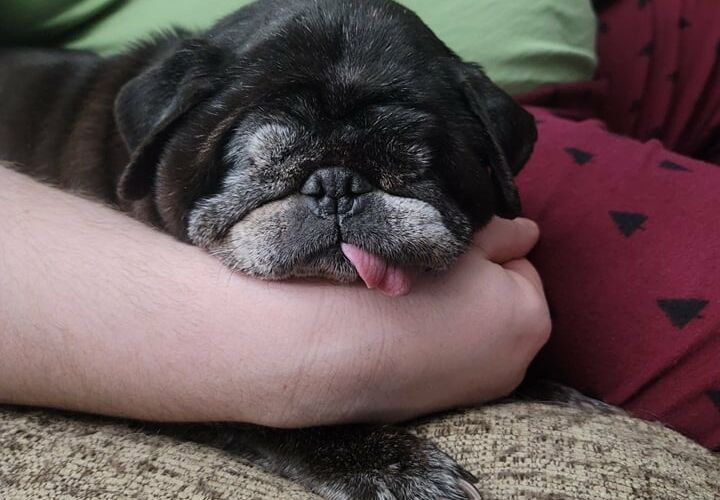 Matilda – Adopted
PLEASE NOTE: All of our adoptable dogs are NOT adopted on a first come, first serve basis. We match the right pug with the right family. Please read the entire bio and details below before emailing. Failure to read all may result in no response or denial. The requirements for each dog are NOT negotiable so please do not ask.
Name: Matilda
Age: 11 yrs
Sex: Female
Previous Life: Breeder Release
Weight: 18 lbs
Altered: Yes
Housebroken: We are trying. She does really good if taken out regularly unless it's cold. She hates cold and snow. Somedays it doesn't feel like she gets and others she does really great. We do our best to give her positive attention for going outside.
Good with dogs/cats/kids: Yes/Unknown/Unknown
Likes: Cuddling & napping. Once she settles down, she can nap like a champ. She does like wondering around at times though. I think she likes the freedom.
Dislikes: None
Crate trained: Yes She goes into her crate at night while we are sleeping. Somedays she will wonder around and find her way to it to nap in.
Fenced yard required: No
Special Needs/Notes: Matilda is not able to see and does have hearing loss. A gate to block stairs will be necessary to keep her safe. Matilda also currently takes a joint supplement.
Hello! My name is Matilda and I am blind. That doesn't slow me down though. I enjoy exploring my foster parents house and even their yard as long as it's not that cold plus no snow. I'm good at finding my people and beds to nap in. I enjoy getting scratches and pets plus butt scratches get my tail wagging. I've come a long way in my few months with my foster family. I lived in a very small space previously so I am enjoying walking around. I might not be as fast as the other pugs but I am practicing and I will catch up soon. I really enjoy being with my people. Sometimes if I don't know where they are I make little squeaky noises. That's why my foster parents call me penguin sometimes.
I would really like someone who has time to spend with me and give me attention. I am a pretty brave pug and will walk in a direction until I find an obstacle then I change direction and keep going. I never really got to be a pet before as I just made puppies so I'm really learning how to be one. I enjoy my food and I make sure to clean my bowl. I only have 2 teeth left but that doesn't stop me from eating kibble. My foster parents water it down for me. Sometimes they will give me some apple sauce or plain Greek yogurt. I eat those up too. I really like blankets so please put some down for me. I would like my own special person to love on me.
Due to the high frequency of applicants NOT ALL pre-screening emails will be responded to. PPN does not allow pugs to be shipped as cargo. For approved out of state adoptions requiring airfare the pug must fit in an airline approved sized carrier able to fit under the seat. Out of state adopters must arrange for transport and in some cases we may have volunteers able to help.
Interested in adopting? Email our adoption coordinator kristi@pugpartners.com and let her know why you think your home is a perfect match!
Matilda's minimum adoption donation is $200.
Thank you to the Miller Family for sponsoring Matilda