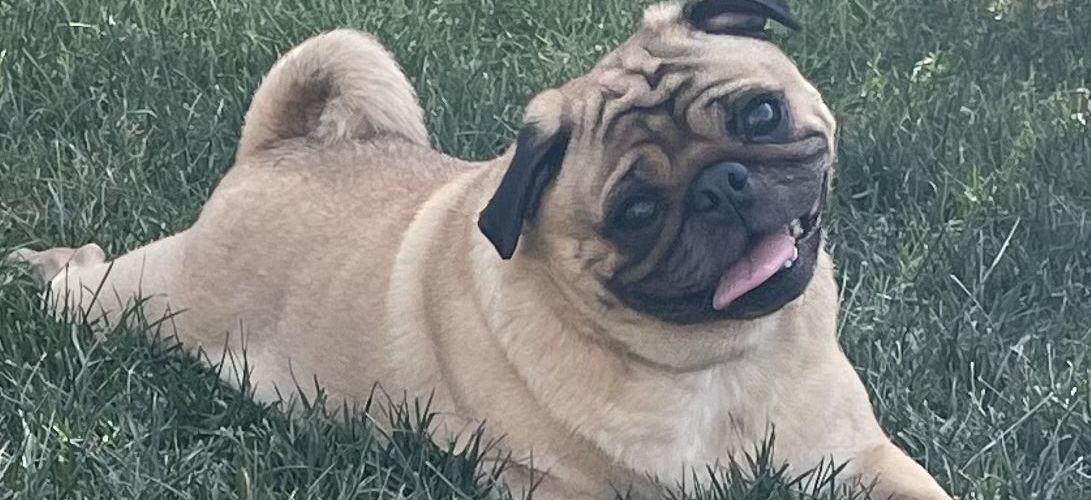 Bentley – Adopted
PLEASE NOTE: All of our adoptable dogs are NOT adopted on a first come, first serve basis. We match the right pug with the right family. Please read the entire bio and details below before emailing. Failure to read all may result in no response or denial. The requirements for each dog are NOT negotiable so please do not ask.
Name: Bentley
Age: 4 yrs
Sex: Male
Previous Life: Owner Surrender
Weight: 23 lbs
Altered: Yes
Housebroken: Yes, but may mark in a new home. He does great except if he's alone upstairs and he can hear his foster in the basement. Then he'll anxiously pee. He marked for the first couple of weeks but has not recently. Adopter will have to be vigilant and consistent with potty breaks.
Good with dogs/cats/kids: Yes but less dominant dogs are preferred. No but he will chase cats/No kids or older, dog savvy kids ONLY.
Likes: He loves stuffed animals, especially his stuffed sloth. Bentley also enjoys a nice Nylabone. He thinks Whimzees are delicious and Kongs with peanut butter are the best after dinner snack!
Dislikes: Other dogs near his food.
Crate trained: Yes but has urinated in his crate in the past in previous home.
Fenced yard required: Yes! He needs room for sniff and run around. Bentley is high energy and a fenced yard helps! This is NOT negotiable.
Special Needs/Notes: Bentley will stand his ground against Alpha dogs. If a dog steals his toy or goes for his food then he will fight back. He also has a tendency to chase dogs around, so resident dogs need to be okay with his hands on style of play. Bentley will pee in the house if he can hear you, but can't see you for prolonged periods. He came into rescue a few pounds overweight, but is close to a healthy weight now and will require a family who is diligent about keeping his weight down. Bentley has a tendency to chase shadows and reflections due to previous owners using a laser pointer. He will need appropriate redirection at times to make sure he isn't hurting himself chasing the shadows and reflections.
Bentley is a high energy pug with tons of love to offer. This absolute gem enjoys walks, snacks, belly rubs, playing with toys, and giving his humans ALL the face kisses. Bentley is a vocal boy who barks when startled or when he wants to play with one of the resident pups in his foster home.
There are times when Bentley gets skittish – specifically when people are chasing him or
make movements that surprise him. Bentley would do well in a home with dog saavy children or no children because he does tend to jump in people for attention. In addition, loud noises and comings and goings startle him. Bentley does great with most of the resident dogs, but would do better in a home without a strict alpha dog as he has some resource guarding related to food and toys. Bentley will chase dogs who try to steal his food and toys, but generally gets along great with other dogs of his energy level. He loves to run after the resident kitty, but does not try to harm her.
Bentley is in great health! He needed no teeth pulled after coming into rescue and the vet gave him compliments about his eyes. He's also very athletic as far as pugs go and he shows it by hopping up to sleep on the back of the couch!
The ideal home for Bentley would be a home where there is a human home most of the time as he loves every human and desires to be near one at all times. Bentley is crate trained, but after a previous life where he was kept too often locked up, he's looking for a family who allows him to stretch his legs by running through the backyard, going on walks, and playing with toys. A home without a lot of coming and going is a must as Bentley exhibits some anxious traits such as excessive barking and having a hard time getting resettled after being disturbed.
Redirection will be necessary as Bentley learns to overcome his obsession with shadows and reflections. He's already made big strides in his foster home with this issue, but his forever home needs to be diligent about keeping Bentley safe. Due to Bentley's obsessive nature regarding reflections and shadows, a CBD supplement for anxiety is recommended in his new home. He loves CBD peanut butter in his Kong or CBD oil on his food.
Bentley is fully potty trained, though he will likely mark initially in a new home. While he's not a fan of belly bands, it teaches him very quickly not to pee when he's indoors. He does occasionally have accidents when left alone due to mild separation anxiety, but crates well for short durations when his foster mom needs to leave the house.
If you're looking for an energetic, handsome, hilarious pug then Bentley is absolutely your guy.
Due to the high frequency of applicants NOT ALL pre-screening emails will be responded to. PPN does NOT allow pugs to be shipped as cargo. For approved out of state adoptions requiring airfare the pug must fit in an airline approved sized carrier able to fit under the seat. Out of state adopters must arrange for transport and in some cases we may have volunteers able to help.
Interested in adopting? Email our adoption coordinator kristi@pugpartners.com and let her know why you think your home is a perfect match!
Bentley's minimum adoption donation is $350.