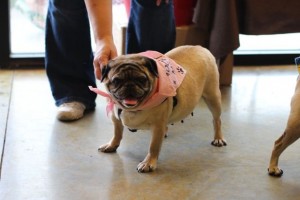 Name: Cotton Candy
Age: 7
Previous Life: Breeder Surrender
Sex: Female
Weight:
Altered: Yes
Housebroken: Training
Good with dogs/cats/kids: Yes/Unknown/Yes
Likes: Unknown
Dislikes: Stairs
Update from foster home —
She spent first 7 years in a cage, uses for breeding. She is a little scared of steps, but getting better every day. She had several teeth removed, but likes to chew, so make sure she has something to chew on or she could get into trouble. Very good at potty training but if not takin out regularly she might have an accident. She's good with other dogs and kids. Problem with jumping, needs a little training with down and other basic commands, but she's very smart. This girl is very sweet and loving!
Cotton Candy is adopted!
Our dogs love to sleep on Kuranda Dog beds, but we don't have enough for everyone.
If you would like to donate a bed at a special wholesale price for a another dog to sleep in comfort, please donate a Kuranda dog bed.