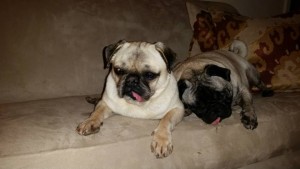 Name: Cupid
Age: 9
Previous Life: Breeder Auction
Sex: M
Weight: 13.2
Altered: Yes
Housebroken: I'm working on it!
Good with dogs/cats/kids: Yes/Yes/Unknown
Likes: Being loved and eating.
Dislikes: Doesn't like to feel abandoned, but is beginning to realize his humans come back for him.
Crate trained: Yes
Cupid is a super sweet boy and so lovable. Initially, open spaces were scary, but he's feeling much more comfortable, exploring and following the resident dogs around. Hasn't joined in the play yet, but he's interested. Loves to snuggle for a bit, then lay on the couch with us. He doesn't like to feel abandoned and will bark a bit – this just needs reassurance for a while. He settles quickly. He's extremely resilient and responsive. This guy is a love! He doesn't act his age at all.
Cupid is a super sweet little guy who is so ready to love and be loved! He's curious and willing to overcome his fears for some love and affection. He's an active boy, ready to play (he's paying attention!) and go for walks, he likes car rides, but he also likes to snuggle and snooze on the couch. He is loving this life outside the cage and it's only going to get better! He's a happy boy!