Age: 9 years old
Previous Life: Lived with a family in Omaha
Sex: Female
Weight: 26 pounds
Altered: Yes
Housebroken: Yes
Good with dogs/cats/kids: Yes
Likes: Car Rides
Dislikes: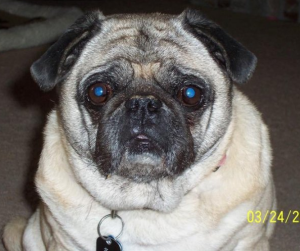 "Hi, my name is Daisy and I am a female fawn pug. I came into the rescue as an owner surrender. I missed my old family alot at first but I have now grown into my foster family and am living the good life. I just turned 9 years old last March but you would never know it. I still have a lot of energy. I enjoy chasing my step brother Bandit (a 3 year old Pug/Peke mix) around the house or backyard.
I also do like to bark when I feel the need to communicate my displeasure to one of my foster siblings or foster parents. I'm pretty smart! I am a very sweet puggy girl and usually pretty laid back. I follow my foster parents everywhere and like to lie near to them and sleep. I don't jump on furniture as I am not really a jumper. I do have some arthritis in my legs but it does not slow me down while running. I handle the stairs pretty well. I like to play with my foster brother's toys. I love to have my ears and belly rubbed. I sleep by my foster parents' bed and have been told I snore rather profusely but my foster dad says it is music to his ears.
My health is really good. I had 5 teeth removed recently and have no problem eating. I do breathe a little heavy as is common with pugs. I weight a healthy 26 lbs. which is 2 less lbs. then when I came into the rescue. I like to take walks and am very well leash trained. I am house trained and never have bladder accidents in the house. I love to ride in the car and am very well behaved.
I would love to find a forever home for the rest of my life. I love living with my foster parents but would like my own adopted family again. I do OK with other dogs (once I learn my place in the pack). I have no problem with cats as I live with two cats in my foster home. I do not currently live with children but I do well with them at pug meetings so my foster parents think I would be great with kids. So if you are looking for an older (but still a little sassy) seasoned female pug who is pretty mellow and just wants to give be loved and give back a lot of love, then I may be your gal. Please fill out an application to meet me. I come with my own food bowl and 2 beds plus a collar and leash. Please fill out an application for me at www.pugpartners.com!"
From Adopted, posted by PugPartners Nebraska on 3/25/2010 (28 items)
Generated by Facebook Photo Fetcher




Our dogs love to sleep on Kuranda Dog beds, but we don't have enough for everyone.
If you would like to donate a bed at a special wholesale price for a another dog to sleep in comfort, please donate a Kuranda dog bed.