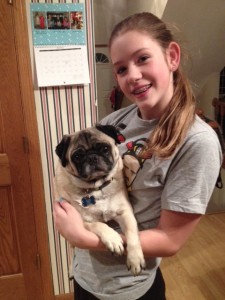 Name:  Dobi
Age:  6
Previous Life:  Owner Surrender
Sex:  M
Weight:  24 lbs
Altered:  Yes
Housebroken:  Yes
Good with dogs/cats/kids:  Yes/Yes/Yes
Likes:  Playing, running in the yard, hanging out with my people, sleeping on the bed
Dislikes:  None
Crate trained:  Yes
My name is Dobi.  I am a very active five year old.  I'm a bit on the chubby side but I'm getting a lot of exercise in the yard at my foster home and my foster mom has limited my food to one meal a day with my foster pug brother and sisters.  I had unlimited access to food at my original home and I guess I might have taken advantage of that.  I feel much more comfortable and have more energy now that I have lost a few ounces.  I love to play with my stuffed toys and I believe there is nothing better in the whole world than a great scratch.  My foster mom says that I will "talk" your leg off!  I have a number of noises that I make when I want to communicate with you and my foster family thinks my talking is simply adorable!  I had some issues with marking in my original home, mostly when everyone was gone.  Now I stay in a kennel when us puggers are home alone and I have had very few problems with marking here.  I just need to have some structure and know what the rules are.  I am very smart.  I learned the first day I was here that if I get in my kennel when they say the word….I will get a yummy little TREAT!  Now when they say, "kennel", I high-tail it as fast as I can and jump in my kennel so I can get my treat.  I love the other pugs and we all hang out and sleep in a pug pile.  My fosters also have a cat.  I would love to play with her.  I wag my tail while I watch her and "talk" to her.  What is it about cats that they always act annoyed?  Her loss, cuz I would be a lot of fun to play with.  I get along great with people.  I live with 12 year old twin girls who have painted my toenails, dressed me up and gotten me a cool new collar.  I am totally game for any nonsense they happen to come up with.  I'm also very happy just hanging out with my people and pugs.  My foster mom says I'm going to make some lucky family very happy when I find my forever home!