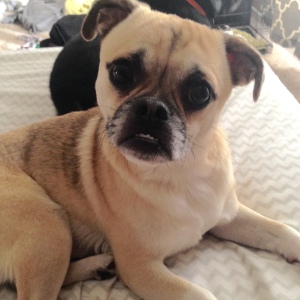 Name: Gabe
Age: 1
Previous Life: Shelter
Sex: M
Weight: Unknown
Altered: Yes
Housebroken: Yes
Good with dogs/cats/kids: Yes/Unknown/Unknown
Likes: Running around and snuggling
Dislikes: I'm working on separation anxiety right now
Crate trained: Yes
Gabe is a very sweet boy. He gets along great with his foster brothers. We think he is a chug (Chihuahua/Pug mix). Gabe would do great in any home. He is very playful and active, but he also loves to nap and snuggle with his foster parents. He does have a little bit of separation anxiety when we leave the house, but we are working on that. We will have more information once he has been with us for a little longer.