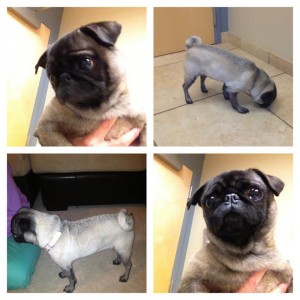 Name: Gracie
Age: 4
Previous Life: Owner Surrender
Sex: Female
Weight:10
Altered: Yes
Housebroken: Yes
Good with dogs/cats/kids: Yes/Yes/Yes
Likes: To dress up!
Dislikes: Fireworks/thunderstorms
Hi!! My name is Gracie and I'm almost 4 years old! I'm an owner surrender, up to date on my vaccinations, spayed, housebroke and full of life! I only weigh about 10 lbs., so I'm petite, but don't let my size fool you! I have some energy!! My story is a bit sad, but my owner had to move into a facility where she could no longer have pets. I'm adjusting pretty well with my new surroundings if I must say! I get along great with my foster sisters and foster cat. I really just love everyone in my current foster family!! I do have some medicine I have to take 2x a day for my seizures and there are no exceptions – I have to have it! As long as I'm on my medicine, I do great! Thunderstorms scare me to death and don't even get me started about the 4th of July! GEEZ! For those scary things, I have a Thunder Shirt I wear……and did I mention I have a WONDERFUL wardrobe for every occasion? I'm a DIVA to the fullest!
Currently my foster mom is working with me on a harness because I was such a Diva that I never had to wear one. If I went on walks, I was pushed in a stroller. I'm catching on fast, but I will still need some work to conquer that pesky thing. I have figured out how to do my business in the snow with it on so I would say that's a GREAT start for me! Stairs are something I'm not real familiar with yet. I can go up them without any problems, but going down I have not had much interest in even trying. I just stand at the top of the steps and whine for my foster mom until she comes back up. I might see if I can work on those sometime soon. They are just a little overwhelming right now.
My ideal family would have a securely fenced yard because I love to play and run around. I would just feel more comfortable and in my element. I would also love to have another dog I could play with and kids would be pretty awesome too! If you are looking for a girl who has everything but a forever home, I'm your girl!! Head on over to Pug Partners website and get your adoption application filled out: https://www.pugpartners.com/adoption-application
I look forward to meeting you! Muwah! Love, Gracie
Gracie is Adopted!
Our dogs love to sleep on Kuranda Dog beds, but we don't have enough for everyone.
If you would like to donate a bed at a special wholesale price for a another dog to sleep in comfort, please donate a Kuranda dog bed.