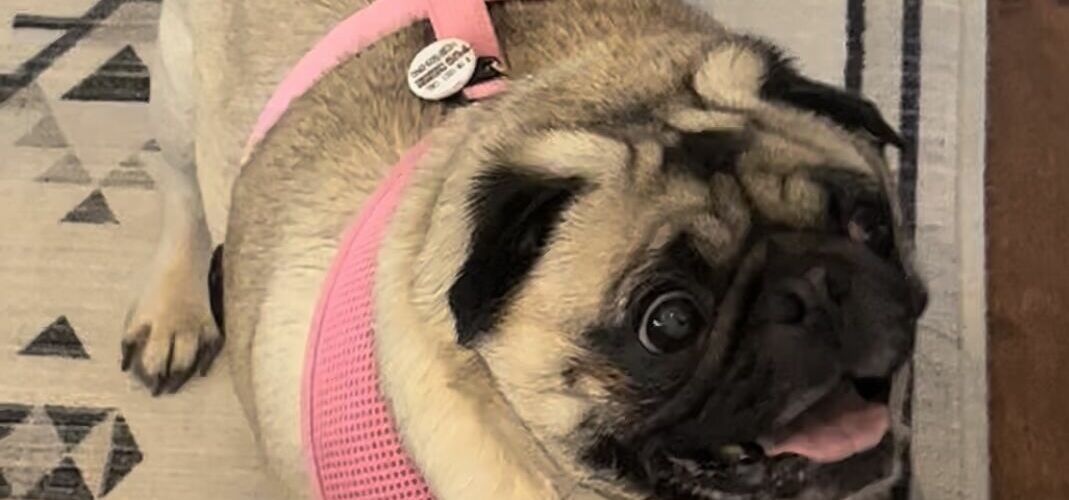 Gucci- Adopted
PLEASE NOTE: All of our adoptable dogs are NOT adopted on a first come, first serve basis. We match the right pug with the right family. Please read the entire bio and details below before emailing. Failure to read all may result in no response or denial. The requirements for each dog are NOT negotiable so please do not ask.
Name: Gucci
Age: 7 yrs
Sex: Female
Previous Life: Owner Surrender
Weight: 23 lbs and on a diet
Altered: Yes
Housebroken: Yes! She does absolutely awesome going out to potty and going to the door when she needs to go.
Good with dogs/cats/kids: Yes/Unknown/Yes, but older or experienced kids are preferred. Gucci loves to be with people but seems indifferent about other dogs. She's dominant with other dogs and can exhibit some food aggression. A submissive male or no other dogs may be best.
Likes: She LOVES squeaky toys and may chew on other items if left out. She loves to get in your lap for belly rubs and give kisses and rub all over her humans. She loves smart bones and any kind of treat including carrots and green beans. She's a great listener and can hear a treat bag from far away.
Dislikes: Because of her vision loss she can get anxious with sudden movements, in dark settings or with a lot of noise or commotion. She prefers a quiet spot to sleep and usually prefers the floor or bed on the floor to the couch.
Crate trained: Yes.
Fenced yard required: Not required but is preferred.
Special Needs/Notes: She sees basically only shadows and light but she seems to have adapted just fine to getting around this way and does require eye lubricant and drops. She doesn't love stairs but she can do them. If she can hear your voice she will follow it perfectly. She's a rock star for having this disability. She has a luxating patella and some arthritis. She needs lose more weight. Supplements include and meds: Eye Lubricant & drops, Trixsyn oral gel supplement and Cosequin
Meet Gucci!
This sweet thick girl lives up to her fancy name. She loves the finer things in life. Treats, food, a comfy bed and lots of pampering lap time. She has some vision loss due to cataracts and PK but it doesn't hold her back. She gets around just fine. Stairs are tricky but she manages to figure them out. She's more of a lone diva. She loves dog-savvy kids of all ages but probably would fit in best in a calm household with possibly older kids. She will make sure you know she's there but pushing her way into your lap for some serious loving. She is house trained like a rock star and will go to the door when she has to go out. Even rain doesn't deter her! She is crate trained and sleeps fine in it at night or for short stints during the day. She can feed off other dog's anxiety or barking but solo she is pretty quiet unless she thinks it's time to eat. She needs to lose more weight but she's working on it with her diet and exercise regimen and daily walks are helpful. She takes daily supplements and eye drops but is overall very healthy. She walks great on a leash but does have a luxating patella and some arthritis but the supplements help and she doesn't let it slow her down. She will make sure her forever home knows how much she loves and appreciates them with lots of kisses and snuggles. Does Gucci sound like the diva girl your house needs?
Due to the high frequency of applicants NOT ALL pre-screening emails will be responded to. PPN does not allow pugs to be shipped as cargo. For approved out of state adoptions requiring airfare the pug must fit in an airline approved sized carrier able to fit under the seat. Out of state adopters must arrange for transport and in some cases we may have volunteers able to help.
Interested in adopting? Email our adoption coordinator kristi@pugpartners.com and let her know why you think your home is a perfect match!
Gucci's minimum adoption donation is $275.