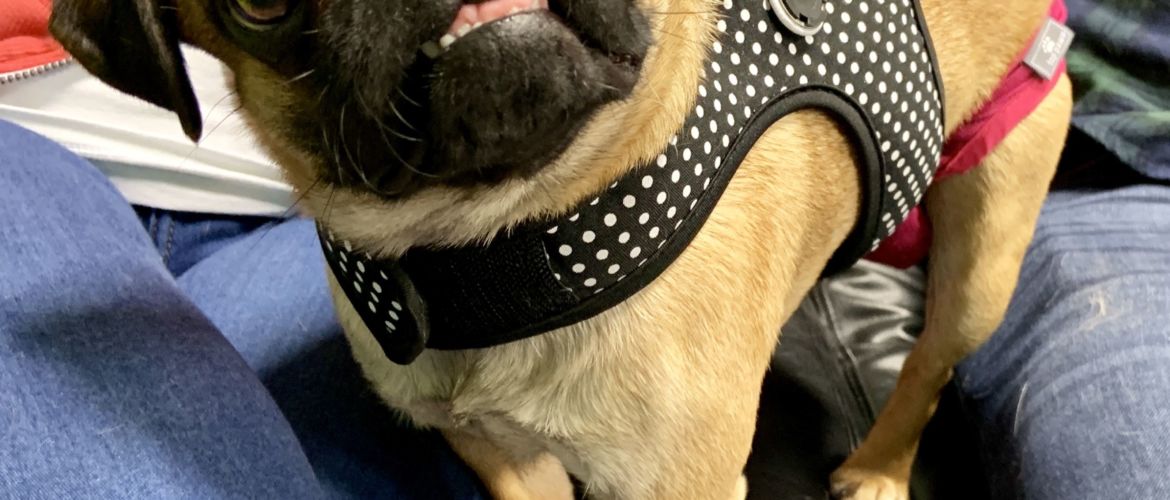 Hadley (Special Needs) – Adopted
Name: Hadley (Special Needs – READ CAREFULLY)
Age: 2 yrs
Sex: Female
Weight: 14 lbs
Altered: Yes
Housebroken: Yes but may need to wear a diaper most of the time.
Good with dogs/cats/kids: Yes (another small dog or two is preferred), Uknown, Yes
Likes: Loves her stuffies, bully sticks, and balls. She is still very much a puppy with a lot of puppy energy.
Dislikes: Leery of people and shy with new people that come into the home
Crate trained: Yes, but does not like to be crated
Fenced yard required: Yes
Special Needs: Hadley does not like to be alone. She also needs to wear a diaper most of the time due to not being able to control herself.
Hello! My name is Hadley (foster mom and dad call me Hadley Mae or Hadley Who Who). I live with my foster mom, dad, and brother. I also live with 2 pug foster sisters. I get along with everyone in my foster home but I get a little scared and timid when new people come into the house but I warm up to them after they've been here for a while.
I'm around 2 years old and still have a lot of puppy in me as I like to play play and play some more! I especially like to chew on my stuffies and bully sticks. I also like chasing my toy balls around the house…sometimes I even sneak them outside! Since I still have a lot of puppy in me, I need constant reminders that chewing on the furniture is bad but chewing on bully sticks is good so I will require a regular supply of bully sticks to keep me occupied. After I get done playing, I like to curl up with foster mom or dad and take naps. I'm told I don't snore very much when I sleep. I also sleep with foster mom and dad at night. I especially like sleeping super close to them, it helps me feel safe and secure.
Foster mom and dad say that all pugs are special but I'm super extra special. One of the things that makes me extra super special is that I don't have a tail. You see, before the fairy pugmother's rescued me, my tail was amputated, some of the nerves that help me control going poop/potty were damaged. Because of this, I sometimes don't know when I'm going poop or potty. To help me not make messes around the house and at night, I wear a diaper most of the time; this means that I will need someone around to change me during the day so I stay nice and clean at all times.
If you are interested in meeting me and think you may be a good fit for my special needs, please fill out an application and ask for me…Hadley.
Hadley's minimum adoption donation is $400. Interested in adopting? Email our adoption coordinator kristi@pugpartners.com and let her know why you think your home is a perfect match for Hadley!
Can't adopt, but want to make a big difference in the life of this pug? Become a sponsor today!